Chief Justice Cheri Beasley Presents 2019 Professionalism Awards to Three Recipients
James Ferguson, Fred Lind, and former Justice Patricia Timmons-Goodson received the award on January 22 in Raleigh.
Article contents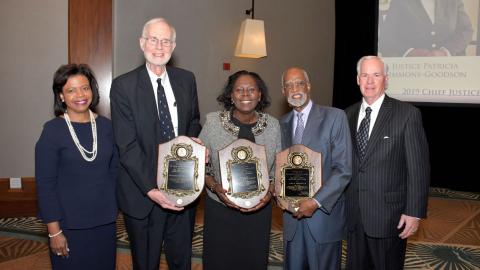 On Wednesday, January 22, at a joint meeting of the North Carolina State Bar and the North Carolina Bar Association in Raleigh, Chief Justice Cheri Beasley presented the 2019 Chief Justice's Professionalism Award to the following recipients for their dedication and commitment to the principles of professionalism and public service in North Carolina.
Attorney James E. Ferguson II

Former Public Defender Frederick G. Lind

Former Associate Justice Patricia A. Timmons-Goodson
James E. "Fergie" Ferguson II, a native of Asheville, began his legendary legal career first as a student at his all black high school in 1960. He and several others formed the Asheville Student Committee on Racial Equality, which first negotiated desegregation of the lunch counter at the S.H. Kress & Co. five and dime store and then later most public facilities in Asheville. After graduating from North Carolina College at Durham (later North Carolina Central University) and then law school at Columbia University, he was offered a job in Charlotte following a chance meeting with civil rights lawyer Julius Chambers at the NCAAP Legal Defense office in New York.
A founding partner of Ferguson, Stein, Chambers, Gresham and Sumpter, Fergie has concentrated his practice in catastrophic injury and wrongful death cases arising out of medical malpractice, personal injury, and products liability. In addition to this practice, he handles civil rights and criminal matters, with several high-profile cases such as the Wilmington 10 and Darryl Hunt in post-conviction.
Fergie taught trial skills at Harvard Law School and North Carolina Central School of Law, served as Scholar in Residence at Santa Clara University School of Law, has been recognized as an Honorary Fellow by the University of Pennsylvania Law School, is a Fellow of the American College of Trial Lawyers, and is a member of the Inner Circle of Advocates. He also cofounded South Africa's first Trial Advocacy Program and taught trial advocacy in England.
In addition to his wealth of contributions professionally, Fergie has served in leadership positions with the National Institute of Trial Advocacy, the North Carolina Advocates for Justice, the North Carolina Association of Black Lawyers, and as General Counsel for the National Executive Committee of the American Civil Liberties Union. He has also been involved with his community on a number of local initiatives.
Among his many awards and recognitions, Fergie has been recognized by the National Law Journal as one of the nation's top 10 litigators and has been listed in every edition of the magazine The Best Lawyers in America in two categories. Locally, in 2017, Fergie received Mecklenburg County Bar Association's E. Osbourne Ayscue Jr. Professionalism Award.
Fergie is married and has three grown children.
Frederick G. Lind was born in Chicago, Illinois, and graduated from Duke University, where he was selected MVP of the men's basketball team for the 1968-1969 season. After graduating from Duke, Fred worked different jobs while trying out for professional basketball teams. He entered DePaul University College of Law in 1971, and after an internship with the Cook County public defender's office, he knew he wanted to be a Public Defender.
In 1974, Fred moved back to North Carolina and took a position with the Guilford County Public Defender's office, thinking he'd be there for a few years. However, he continued as an assistant public defender, and after the death of his long-time mentor Wally Harrelson in 2011, Fred was appointed chief public defender where he served until his retirement on November 30, 2019. During his entire career, Fred has tried over 325 criminal jury trials and filed over 110 appellate briefs in the North Carolina appellate courts.
In addition to a successful career, Fred has an extensive record of public service to North Carolina lawyers and to the profession. He has been the president of the Greensboro Criminal Defense Lawyers Association, president of the North Carolina Public Defenders Association, member of the Chief Justice's Commission on Professionalism, and board member of the Greensboro Bar Association. Among his accolades through the years, Fred received the North Carolina Bar Association Criminal Justice Section Wade Smith Award, the Greensboro Bar Association Distinguished Service Award, Elon University School of Law's Leadership in the Law Award, and recently, the North Carolina Judicial Branch's Richard Caswell Award for his 45 years in public service.
Fred is married and has two adult daughters, the youngest of whom is a U.S. World Champion and U.S. Olympic Gold Medalist in Women's Rowing.
Patricia A. Timmons-Goodson was born in Florence, South Carolina, and raised on military bases until her family settled in Fayetteville, North Carolina. She received her BA and JD from the University of North Carolina at Chapel Hill and an LLM from Duke University School of Law. She began her career as a district manager of the United States Census Bureau in the Department of Commerce and then as an assistant prosecutor and legal services lawyer in Fayetteville. In 1984, she began her 28-year career on the Bench, serving as a district court judge in the 12th Judicial District, a judge on the North Carolina Court of Appeals, and then an associate justice on the Supreme Court of North Carolina, from where she retired in 2012. Notably, she was the first African American woman elected to the Court of Appeals, and eight years later, the first to serve on the Supreme Court.
In 2014, President Obama appointed Justice Timmons-Goodson to the United States Commission on Civil Rights, and later nominated her to serve as a United States district judge for the Eastern District of North Carolina, where the American Bar Association rated her "Unanimously Well Qualified." She is an active member of the ABA, serving on the Editorial Board of the ABA Journal and the ABA Law School Accreditation Committee. She serves on the Guilford College Board of Trustees, The Fayetteville Chapter of Links Incorporated, and the Board of Directors of the North Carolina Civil War Center.
Over the years, Justice Timmons-Goodson has received a number of honors and awards, including the Order of the Long Leaf Pine, Liberty Bell, Appellate Judge of the Year, three honorary degrees, and induction into the North Carolina Women's Hall of Fame.
Justice Timmons-Goodson is married and has two grown sons.