Chief Judge Linda McGee Receives Liberty Bell Award
Court of Appeals Chief Judge Linda McGee has received the Liberty Bell Award from the N.C. Bar Association.
Article contents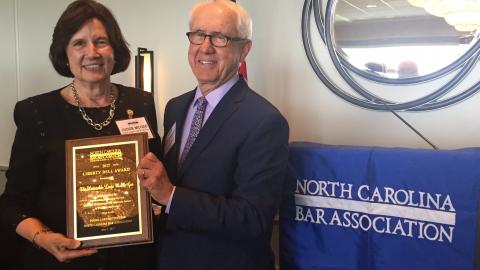 The award is presented annually on Law Day by the Young Lawyers Division (YLD) to an individual "who has strengthened the American system of freedom under law." McGee has long been a champion of civic education and serves on the Speakers Bureau.
"It is a special honor being recognized on Law Day," said Chief Judge McGee. "I have had the pleasure of working with the YLD for their Law Day and moot court competition, getting to meet the young people and their families, and talking to them about the rule of law."
As chief judge and chair of the Celebrate N.C. Courts initiative, McGee is keenly aware of ongoing anniversary events commemorating the Court of Appeals, and views this honor in part as recognition for the entire court.
"I think it not only recognizes some of the opportunities I have had, but also clearly recognizes the good work of the North Carolina Court of Appeals and the 77 other judges who have served on the court during the last 50 years," said Chief Judge McGee.
A native of Marion, McGee is a graduate of the University of North Carolina at Chapel Hill and the UNC School of Law. She served as executive director of the N.C. Academy of Trial Lawyers (now Advocates for Justice) from 1973-78, after which she practiced for 17 years in Boone with di Santi, Watson and McGee. Chief Judge McGee was appointed to the Court of Appeals in 1995 and elected to eight-year terms in 1996, 2004, and 2012. She has served as chief judge since August 2014.
Previous winners of the Liberty Bell Award are Judge Beth Keever, Judge Sammie Chess Jr., Maj. Gen. (retired) James B. Mallory III, Patricia Timmons-Goodson, Earl Britt, Burley Mitchell, Harry C. Martin, Janice McKenzie Cole, Stacy C. Eggers Jr., E. Maurice Braswell, Herbert L. Richardson, William Joslin, Henry Frye, Robert R. Browning, Lacy Thornburg, James B. Hunt Jr., William C. Friday, Sam J. Ervin III, Terry Sanford, Herbert H. Taylor Jr., James Dickson Phillips Jr., Wade E. Brown, Hiram H. Ward, Kathrine Everett, L. Richardson Preyer, J. Frank Huskins, McNeill Smith, Franklin T. Dupree Jr., Thad Eure, Joseph Branch, Dr. Robert E. Lee, William B. Aycock, Susie Sharp and Sam Ervin Jr.
Source: NC Lawyer, May 2017, North Carolina Bar Association.