Historic Celebration Honors the Women Justices of the Supreme Court of North Carolina
Article contents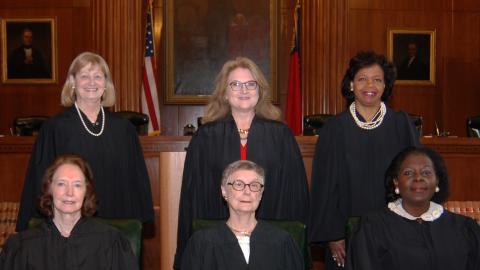 In a ceremony on Tuesday, April 10, the Supreme Court of North Carolina honored the women justices who have served on the state's highest court. This commemorative ceremony is the second official event to be held as a part of the Supreme Court's 200th anniversary celebration.
The event featured a portrait sitting of the justices and a short program honoring (pictured above from left to right, top row): former Chief Justice Susie Sharp, former Chief Justice Rhoda Billings, former Chief Justice Sarah Parker, former Associate Justice Patricia Timmons-Goodson; (bottom row) Associate Justice Robin E. Hudson, Associate Justice Barbara Jackson, and Associate Justice Cheri Beasley.
"Every member who has served on this Court is important and highly valued. Today, we recognize the superb contributions that this Court's women justices have made and continue to make to our State's jurisprudence and to the rule of law. Their wisdom and insight have benefitted this Court and all North Carolinians."
The historic celebration included remarks by Chief Justice Martin, Court of Appeals Chief Judge Linda M. McGee, former Associate Justice Franklin Freeman, Renee Crawford, Catharine Arrowood, Jenny Leisten, Janet Ward Black, Judge Donna Stroud, Denaa Griffin, and Associate Justice Hudson. Dignitaries from all three branches of government were in attendance, including current and former members of the Supreme Court and Court of Appeals, judges, and judicial staff.
Supreme Court Justices Honored
MORE INFORMATION
Watch the ceremony video.
See the ceremony program.
The Supreme Court of North Carolina is the state's highest court and there is no further appeal from its decisions on matters of state law. It comprises the Chief Justice, who also serves as the head of the Judicial Branch, and six associate justices, each serving eight-year terms.