Portrait of Former Chief Justice Burley Mitchell Dedicated at Supreme Court
Former Chief Justice Burley B. Mitchell Jr. had his portrait dedicated at the Supreme Court of North Carolina.
Article contents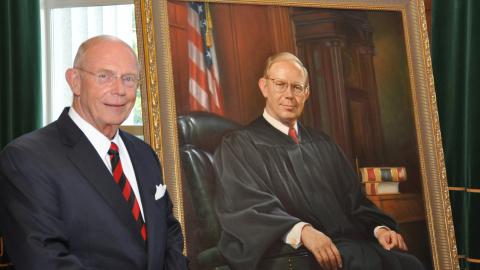 Friends, family, former and current members of the Supreme Court and Court of Appeals, other judges, and attorneys gathered in the Supreme Court courtroom on August 10 to dedicate a portrait of former Chief Justice Burley Bayard Mitchell, Jr. He served as Chief Justice from 1995 to 1999, and previously as an associate justice from 1982 to 1995.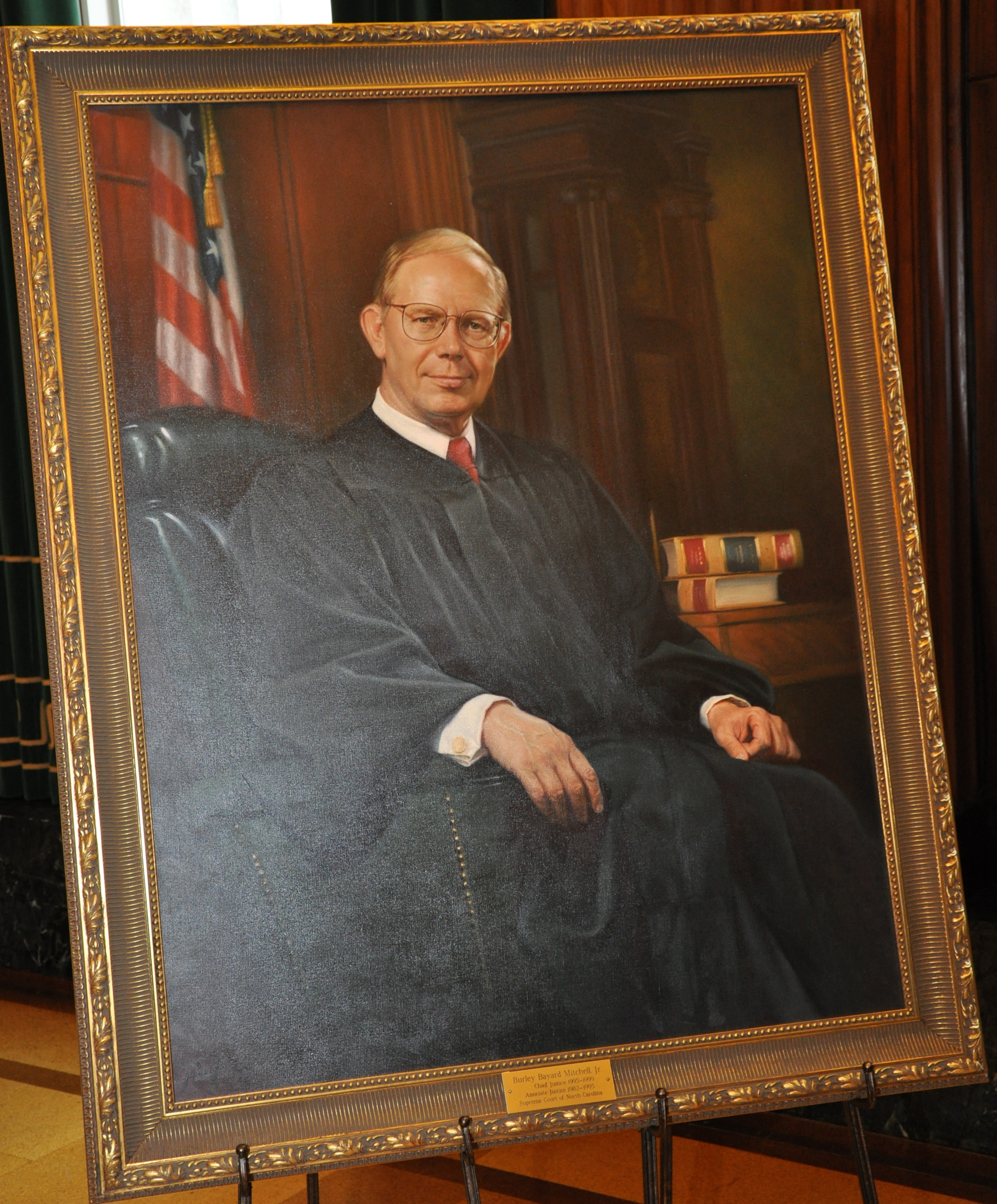 Chief Justice Mitchell's portrait was painted by Dean Paules. Among his many commissions include Nobel Prize Laureate Dr. George Hitchings and former North Carolina Governor Dan Moore.
Chief Justice Mitchell was born in Oxford, N.C., and grew up in Raleigh. After serving in the U.S. Navy for four years, he attended and graduated from North Carolina State University in 1966, and then received his law degree (J.D.) in 1969 at the University of North Carolina School of Law. He has also received multiple honorary doctorate degrees.
Chief Justice Mitchell began his outstanding legal career in service to the people of North Carolina as an assistant attorney general and then as a district attorney for the 10th Judicial District. In 1977, he was appointed as a judge on the N.C. Court of Appeals for two years, followed by service as Secretary of the N.C. Department of Crime Control and Public Safety. In 1982, Governor Hunt appointed him to the Supreme Court as an associate justice, and in 1995, Governor Hunt appointed him Chief Justice, where he served until retirement in 1999. Upon retirement, he joined a law firm and has practiced as a partner ever since.
During his tenure as Chief Justice, he created the Chief Justice's Commission on Professionalism to promote professionalism of lawyers and judges. In 1995, the Supreme Court adopted Rule 2.2 of the Rules of Superior and District Courts, directing the Chief Justice to designate one or more superior court judges to "be known as Special Superior Court Judge for Complex Business Cases" and in January 1996, Chief Justice Mitchell designated the first such business judge.
In addition to all of his public legal service in North Carolina, both on and off the bench, Chief Justice Mitchell has remained active in community service and higher education. He has served as a member of the Board of Trustees for N.C. State University, a member of the UNC Board of Governors, and as chair of the National Conference of Chief Justices' Committee on Professionalism. Chief Justice Mitchell has received numerous awards, commendations, and accolades over the years for his leadership and service in the courts and community. His awards include the North Carolina Award (the state's highest civilian honor), the Order of the Long Leaf Pine, the N.C. Bar Association Liberty Bell Award, and the Chief Justice's Professionalism Award.
Chief Justice Mitchell and his wife of 54 years, Mary Lou Willett Mitchell, have two children, David Bayard Mitchell (deceased) and Dr. Catherine Morris Mitchell Fuentes; and two grandchildren (Mary Catherine Fuentes and Margaret Bayard Fuentes).
It is tradition in North Carolina for each chief justice, upon retirement, to have a portrait painted and hung in the Supreme Court, if they desire. Associate justices may have their paintings hung in the hallway outside of the courtroom.