Portrait of Former Chief Justice Henry Frye Dedicated at Supreme Court
All gathered in the Supreme Court courtroom on December 8 to Dedicate a portrait of former Chief Justice Henry E. Frye.
Article contents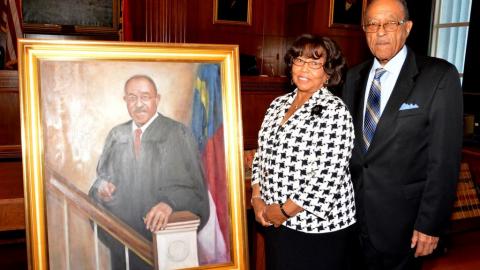 Friends, family, former and current members of the Supreme Court and Court of Appeals, other judges, and attorneys gathered in the Supreme Court courtroom on December 8 to dedicate a portrait of former Chief Justice Henry E. Frye. He served as Chief Justice from 1999 to 2000, and previously as an associate justice from 1983 to 1999.
Chief Justice Frye's portrait was painted by Victoria Carlin Milstein, owner of VCM studio, a gallery and classroom in downtown Greensboro. She has painted both private and public figures for more than 20 years. Remarks during the ceremony included former Governor Jim Hunt, U.S. Court of Appeals Fourth Circuit Judge James Wynn Jr., and Brooks Pierce partner Jim Williams.
Chief Justice Frye grew up in Ellerbe and graduated from N.C. A&T State University. He then enrolled for the study of law as the first Year 1 African-American at the UNC School of Law. His other firsts included: Assistant U.S. Attorney for the Middle District of North Carolina in 1963, and the first African-American (in the 20th century) to be elected to the N.C. House in 1969. He served in the House for 12 years and two years in the Senate. In 1983, Gov. Hunt appointed Frye as associate justice of the Supreme Court, the first African-American to serve the state's highest court. In 1999, Gov. Hunt appointed him Chief Justice, another first.
Upon retiring from the court in 2000, Chief Justice Frye became of counsel at Brooks, Pierce, McLendon, Humphrey & Leonard. He also participates in a myriad of philanthropic endeavors. While his career has been marked by a number of great opportunities, his greatest accomplishments have been as husband for 59 years to Shirley; father to Henry, Jr. and Harlan; father-in-law to Angela; grandfather to Whitney, Jordan, and Endya; grandfather-in-law to Brandon; and great grandfather to Avery.
It is tradition in North Carolina for each chief justice, upon retirement, to have a portrait painted and hung in the Supreme Court, if they desire. Associate justices may have their paintings hung in the hallway outside of the courtroom.