Portrait of Retired Chief Justice James G. Exum Jr. Dedicated at Supreme Court
All gathered in the Supreme Court courtroom to dedicate a portrait of former Chief Justice James G. Exum.
Article contents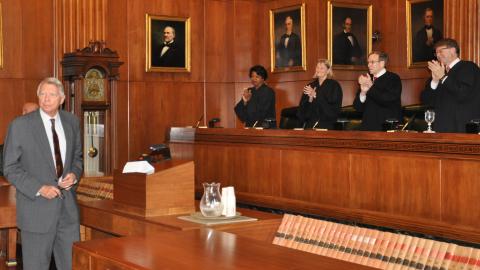 Friends, family, former and current members of the Supreme Court and Court of Appeals, other judges, and attorneys gathered in the Supreme Court courtroom on October 13 to dedicate a portrait of former Chief Justice James G. Exum, who served on the court from 1975 until his retirement in 1994, and as chief justice from 1986 to 1994.
Chief Justice Exum's portrait was painted by Tom Donahue (1948 - 2012) of Memphis, Tennessee. Chief Justice Exum is a native of Snow Hill, N.C., and attended the University of North Carolina at Chapel Hill as a Morehead Scholar, where he majored in English and graduated in 1957. He received his law degree in 1960 from the New York University Law School, where he was a Root-Tilden Scholar and a research assistant to Associate Justice, later Chief Justice, Emory B. Denny.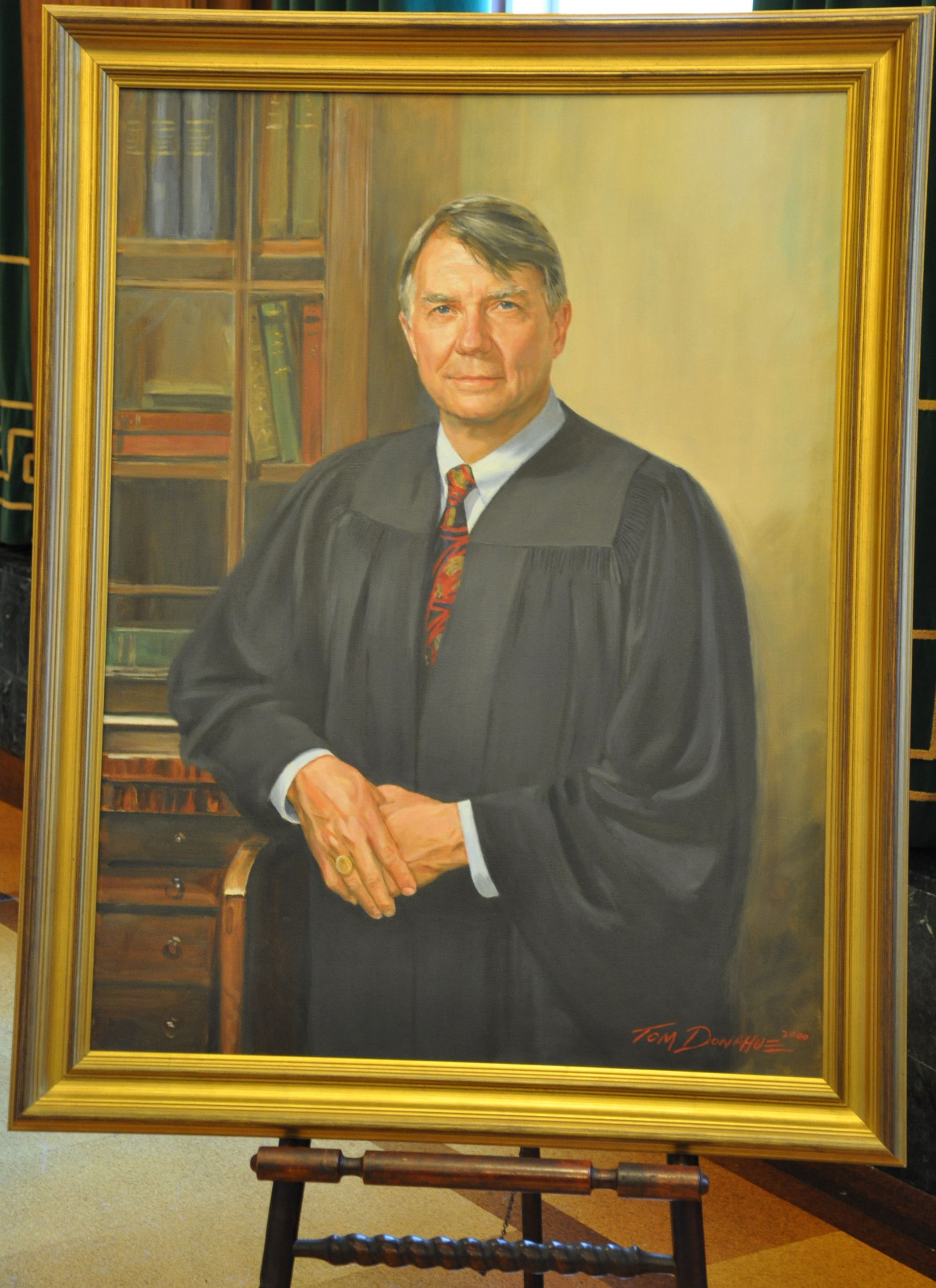 He practiced law with Smith Moore Smith Schell and Hunter in Greensboro. As a private in the Army Reserve, he was named Honor Graduate of the Army Information School. He completed duty as a JAGC captain. Following Exum's service in the 1967 General Assembly, Governor Dan K. Moore appointed him to superior court. He was elected associate justice in 1974, Chief Justice in 1986, and reelected in 1990. He retired from the Court in 1994.
Chief Justice Exum made the first State of the Judiciary address to the General Assembly in 1987. He established the North Carolina Judicial Conference as a forum for all state judges to address issues of mutual concern. He advocated resolving many disputes outside the courtroom, now known as Alternative Dispute Resolution. He helped found the Supreme Court Historical Society, led the Court into the computer age and fondly recalls cajoling a resisting justice or two to give email a try. The Court's 1994 175th anniversary celebrations concluded with his remarks, "Faith and Law: Different Roads to Peace and Justice" at Edenton Street Methodist Church.
He has served in leadership positions in state and national bar associations and in his church. Awards include the NCBA's John J. Parker Award and Campbell Law School's James Iredell Award.
In 1996 Chief Justice Exum renewed law practice with Smith Moore Leatherwood, where he led the firm's Appellate Practice Group and remains Of Counsel to the firm. He was a founding member of the Advisory Board of Elon University Law School where he is a Distinguished Professor of the Judicial Process.
Chief Justice Exum and his bride of 52 years, Judith, have three children (James, Steven, and Mary March) and four grandchildren (Bella, Sawyer, Ava, and Rosemary).
It is tradition in North Carolina for each chief justice, upon retirement, to have a portrait painted and hung in the Supreme Court, if they desire. Associate justices may have their paintings hung in the hallway outside of the courtroom.