Supreme Court Accepts Portrait of Former Justice George Wainwright Jr.
The Supreme Court of North Carolina met in Ceremonial Session to honor one of it's former members.
Article contents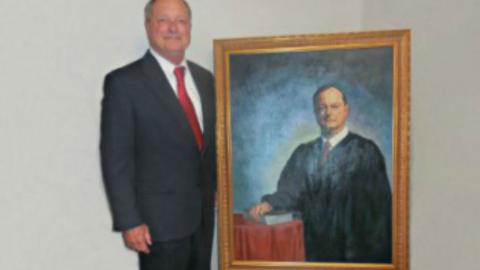 The Supreme Court of North Carolina met in Ceremonial Session the last Tuesday of March to honor one of its former members.
Retired Associate Justice George L. Wainwright, Jr. and his family presented the court with a portrait of the former Justice during the special session.
Wainwright served on the state's highest court from 1998 to 2006. A native of Wilson, NC, he graduated from Fike High School (62) and the University of North Carolina at Chapel Hill (66) as a Morehead Scholar and entered the U.S. Coast Guard during the Vietnam era.
In 1967, he returned to Wilson and ran his family agribusiness and real estate company for 14 years when, at age 38, he entered Wake Forest University School of Law. He joined the law firm of Wheatly, Wheatly, Nobles and Weeks in Beaufort after graduating law school.
In 1991, Wainwright was appointed to a District Court Judgeship by Governor James G. Martin and was elected to the position in 1992. In 1994, he was elected in a statewide election to a Resident Superior Court Judgeship in Judicial District 3B which is Carteret, Craven, and Pamlico counties. He was elected to the Supreme Court of North Carolina in 1998. Justice Wainwright served an eight-year term on the state's highest court and distinguished himself as being the only person to have served on both the District and Superior Court levels as well as the Supreme Court.
After retiring, he served as an Emergency Superior Court Judge and as a Certified Mediator in Superior Court and Family Financial matters. He is currently serving as chair of the North Carolina State Ethics Commission. Wainwright is married to the former Carol McChesney, and they have two children: Kennon and Ashton, both graduates of UNC Chapel Hill.
Presenting the portrait was Michael Phillips, former law clerk to Wainwright and attorney with Bell Davis Pitt, P.A. Accepting the portrait was Chief Justice Mark Martin.