Supreme Court Clerk Roeder Honored During Portrait Presentation
Clerk Roeder is one of only nine clerks of the Supreme Court to have her portrait painted and displayed in the Supreme Court building.
Article contents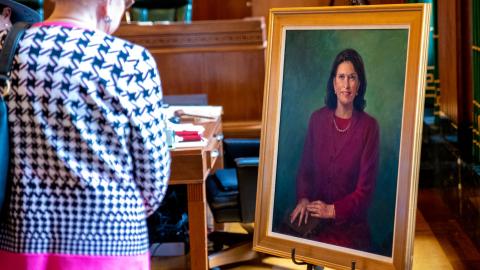 Justices, judges, special guests, and dignitaries from all levels of state government gathered on March 12, 2020, for the portrait presentation of former Supreme Court Clerk of Court Christie Speir Cameron Roeder. A ceremonial session of the Supreme Court was held in the Supreme Court courtroom witnessed by Clerk Roeder's friends and family, current and former members of the Supreme Court and Court of Appeals, other judges and attorneys. All participated in honoring Clerk Roeder for her service of the Court from 1991- 2016, and 2017-2018.
Clerk Roeder's portrait was painted by Rebecca Patman Chandler who previously painted the portrait of Chief Justice Joseph Branch. Clerk Roeder is a native of Bethel, N.C., and received an undergraduate degree and juris doctor from the University of North Carolina at Chapel Hill.
Upon graduation from law school, Clerk Roeder was employed as a research assistant to the Honorable John Webb at the North Carolina Court of Appeals from 1979-1981. In September 1981, she was appointed as the assistant appellate division reporter for the Supreme Court of North Carolina. In 1984, Clerk Roeder was hired to head the Real Estate Department of Wyrick, Robbins, Yates and Ponton.
Clerk Roeder was appointed clerk of the Supreme Court of North Carolina in April of 1991 where she served until May 31, 2016. She was asked to return from retirement for five months from October 2017 until March 2018. Clerk Roeder and her staff were credited with creating one of the first Case Management Systems for any court and with creating the first statewide appellate electronic filing system in the nation. Clerk Roeder was intent on seeking ways to make practicing before the Court and receiving information about the casework of the Court easier for anyone – whether they resided in Raleigh or in the far reaches of the State.
While Clerk of the Supreme Court, Clerk Roeder was president of the National Conference of Appellate Court Clerks (NCACC), recipient of the NCACC's J.O. Sentell Award, president of the Wake County and 10th Judicial District Bars, and a Counsel of State Governments' Toll Fellow. She received the Court's Amicus Curiae Award, the North Carolina State Bar's John B. McMillan Distinguished Service Award, and the Order of the Long Leaf Pine.
Other civic activities have included: chair, North Carolina Child Advocacy Institute; chair, Triangle Transit Authority; vice chair, North Carolina Railroad; chair, Board of Directors of the North Carolina Museum of History Associates; chair, Parent's Panel of the North Carolina Task Force on Excellence in Secondary Education, and member of the Board of Directors of the North Carolina Board of Corrections, the North Carolina Museum of Natural Sciences, Phi Beta Kappa Society of Wake County, and Kid's Voting of Wake County. Ms. Roeder has also been a member of several Legislative Study Commissions.
Clerk Roeder is married to Richard D. Roeder, and her children are David Price and his wife, Leah, and John Price, and his wife, Grace. Her step-children are Gabrielle Cameron, Lindsay Roeder, and Kyle Roeder. She has two step-grandchildren, Owen and Jaysie.
Clerk Roeder is one of only nine clerks of the Supreme Court to have her portrait painted and displayed in the Supreme Court building.