All Things Judicial Highlights the Wake County Legal Support Center
Episode explains the Center's creation and operation and includes a tour of the Center with Judge Dunston.
Article contents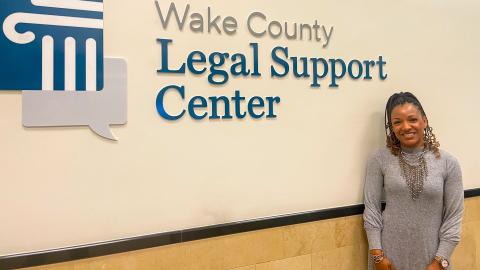 In the latest All Things Judicial podcast episode, we highlight the new Wake County Legal Support Center. In the first segment, we are joined by Wake County District Court Judge Ashleigh Parker Dunston who discusses the center's creation and operation. In the second segment, Judge Dunston takes listeners on a tour of the new center and further explains how it serves the citizens of Wake County. 
"Over the last two months that (the center) has been in operation, we have seen more informed and educated individuals coming in to represent themselves," said Dunston on the podcast. "And that is exactly what the center is supposed to do."
The Wake County Legal Support Center is located in the Wake County Courthouse and began operation on January 9, 2023. It is designed to serve as a resource hub for Wake County residents who are self-represented litigants in civil legal matters. The Center provides access to legal forms and information packets that address common problems like family law and housing, while partnering with community organizations to provide free legal clinics and access to other social services and community resources.
Judge Ashleigh Parker Dunston is a district court judge in the 10th Judicial District, which encompasses Wake County. Prior to that, Judge Dunston served as an assistant attorney general at the North Carolina Department of Justice and as an assistant district attorney at the Wake County District Attorney's Office.