Chief Justice Beasley Presents the Supreme Court's Highest Award to Thomas K. Maher for His Dedication to the Office of Indigent Defense
Services
Tom Maher served as Executive Director of IDS for 11 years.
Article contents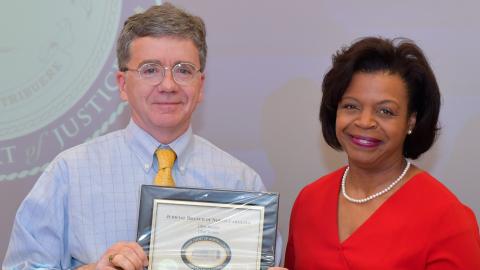 Tom Maher was presented with the Friend of the Court award for his dedication to the Judicial Branch and service in the role of executive director of the Office of Indigent Defense Services (IDS). Chief Justice Cheri Beasley presented the Supreme Court's highest award at the quarterly meeting of chief public defenders at the North Carolina Judicial Center on February 28.
"I, along with countless indigent clients, owe Tom a debt of gratitude for his vision and leadership of the Office of Indigent Services over the past 11 years," said Chief Justice Beasley. "We are sorry to lose his depth of knowledge and experience but wish him the very best in his role at Duke University."
Tom Maher has served as the executive director of IDS for 11 years. IDS is the statewide agency responsible for the administration and support of public defense in North Carolina. As director of IDS, Tom has worked to design and implement programs and reforms to increase the quality of justice for clients who rely on public defense.
Immediately prior to becoming IDS director, Tom served as the executive director of the Center for Death Penalty Litigation, a non-profit focused on representation in capital cases. Before that, Tom worked as a criminal defense attorney representing clients, both retained and appointed, in state and federal court. Tom will be joining the Duke University Center for Science and Justice on March 1 as its new executive director.