Chief Justice Cheri Beasley Declares May as Drug Court Month for the Judicial Branch
Drug Court Month is a celebration of the lives restored by drug court.
Article contents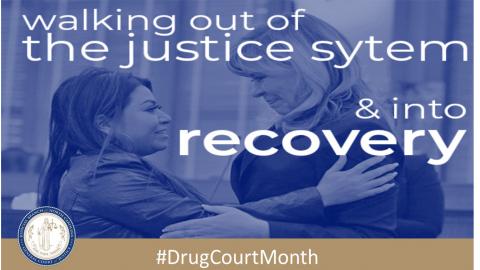 Chief Justice Cheri Beasley has declared the month of May, 2020, as "Drug Court Month" for the North Carolina Judicial Branch by way of a judicial order. This month, drug courts throughout North Carolina will join more than 4,000 such programs nationwide in celebrating National Drug Court Month.
Every day, drug abuse takes the lives of more than 130 people in the United States. In 2017, the opioid epidemic took the lives of 1,953 North Carolinians at a rate of 19.8 deaths per 100,000 people, higher than the national average. This issue is not only a public health crisis; it also significantly impacts the justice system, adding to criminal dockets and requiring significant public resources to restore and reunite families.
"North Carolina treatment courts have been restoring lives and families in North Carolina for 25 years," said Chief Justice Beasley. "We take this month to recognize their success in breaking the cycle of addiction and helping people return to successful, productive lives."
Drug Court Month is a celebration of the lives restored by drug court. According to the National Association of Drug Court Professionals (NADCP), this year alone, more than 150,000 individuals nationwide who entered the justice system due to addiction will receive lifesaving treatment and the chance to repair their lives, reconnect with their families, and find long-term recovery.
As of January 2020, there are a total of 54 treatment courts serving 28 North Carolina counties.