N.C. Guardian ad Litem Program Celebrates 35 Years in July
July 2018 marks 35 years since the establishment of the Guardian ad Litem (GAL) Program in North Carolina.
Article contents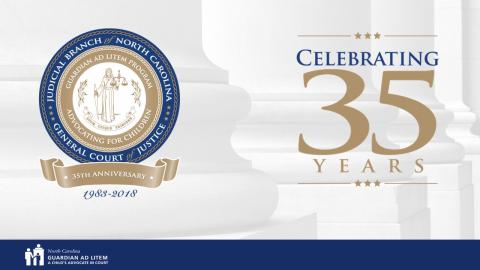 July 2018 marks 35 years since the establishment of the Guardian ad Litem (GAL) Program in North Carolina. A celebration is being held as part of a statewide conference in Winston-Salem on Thursday and Friday, July 26 and 27, where over 500 GAL volunteers and 200 attorneys, staff, and presenters will be in attendance. Other celebratory events are being held in various regions throughout the state this year to mark this major milestone. A special guest speaker at the conference is Jenny Weisz, who was the inaugural GAL administrator. 
"Throughout this year, we celebrate you, our attorney advocates, and, obviously, our volunteers for all that you do, individually and collectively," said Chief Justice Mark Martin earlier this year at a statewide meeting. "Most of all, I celebrate the heart and the spirit with which you do it."
Established by statute in 1983, the North Carolina Guardian ad Litem Program has been serving abused and neglected children for over three decades.
Pursuant to North Carolina General Statute 7B-601, when a petition alleging abuse or neglect of a juvenile is filed in district court, the judge appoints a volunteer Guardian ad Litem advocate and an attorney advocate to provide team representation to the child, who has full party status in trial and appellate proceedings. All Guardian ad Litem advocates are trained, supervised, and supported by program staff in each county of the state. The collaborative model of GAL attorney advocates, volunteers, and staff ensures that all North Carolina children who are alleged by the Division of Social Services to have been abused or neglected receive GAL legal advocacy services.
"We have one of the strongest court appointed special advocate programs in the country," said Cindy Bizzell, administrator of the North Carolina Guardian ad Litem program. "The work of our volunteer GALs and attorney advocates helps the court make the best decision possible in the lives of vulnerable North Carolina children."
A Brief History of Guardian ad Litem
1983
Guardian ad Litem is established in the North Carolina Administrative Office of the Courts by the General Assembly. (N.C.G.S. 7B-1200)
1994
Guardian ad Litem completes the 1983 mandate to have a GAL Program in each judicial district. From the coast to the mountains, the program has staff and volunteers in all 39 judicial districts.
2000
Guardian ad Litem staff create a manual designed to encourage best practices within the program.
2003
Guardian ad Litem celebrates 20 years of advocating for abused and neglected children in the court system. At this time, the program has more than 3,800 GAL volunteers and attorneys serving more than 15,700 children.
2010
For the first time, Guardian ad Litem reaches the milestone of having 5,000 volunteers.
2013
Guardian ad Litem celebrates 30 years of advocacy.
2017
Guardian ad Litem provides for the best interest for a record 18,083 children in nearly 70,000 hearings.
2018
Guardian ad Litem celebrates 35 years of advocacy.