North Carolina Sentencing and Policy Advisory Commission Honors 25th Anniversary of Enactment of Structured Sentencing
Governor Roy Cooper proclaimed today as Structured Sentencing Day in North Carolina.
Article contents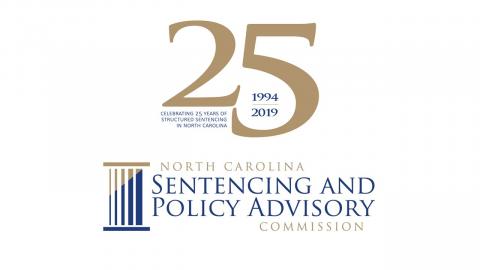 Commission Chairman and Rowan County Chief District Court Judge Charlie Brown welcomed nearly 100 distinguished guests to a 25th Anniversary commemoration and reception, held September 26 at the North Carolina Museum of Art. Guests included current and former Commission members, members of the judiciary, legislature, and Executive Branch, and other criminal justice system stakeholders.
"The development, enactment, and endurance of the Structured Sentencing Act is a remarkable achievement for North Carolina," said Judge Brown. "As we collectively reflect upon the important milestone of 25 years of sound sentencing laws for our state, I know we all feel proud."
Judge Tom W. Ross and Judge W. Erwin Spainhour, the former Sentencing Commission chairmen, provided their historical perspectives on the development, implementation, and changes to Structured Sentencing over the past 25 years. Chief Judge Linda McGee of the North Carolina Court of Appeals brought her congratulations to the Commission. She spoke about the way in which the principles of Structured Sentencing further the Judicial Branch's fair and impartial administration of justice. 
The evening concluded with William McKinney, general counsel to the Governor, presenting Judge Brown with a proclamation from Governor Cooper to honor the anniversary, proclaiming October 1, 2019, as Structured Sentencing Day and commending its observance to all North Carolina citizens.
MORE INFORMATION 
The Sentencing and Policy Advisory Commission was created by the General Assembly in 1990 to make recommendations for the modification of sentencing laws and policies, and for the addition, deletion, or expansion of sentencing options as necessary to achieve policy goals. The Commission recommended the General Assembly enact the Structured Sentencing Act in 1993. Since its enactment 25 years ago, Structured Sentencing and the principles it embodies continue to serve as the foundation of North Carolina's criminal justice system.
For more information, please contact the Commission's Executive Director, Michelle Hall, at 919-890-1470 or sentencingcommission@nccourts.org.
Visit the Commission's website at www.NCSPAC.org.