Supreme Court Holds Sessions in North Carolina's Piedmont to Celebrate Bicentennial Anniversary
Supreme Court met in Salisbury, Asheboro and Winston-Salem September 30 - October 2
Article contents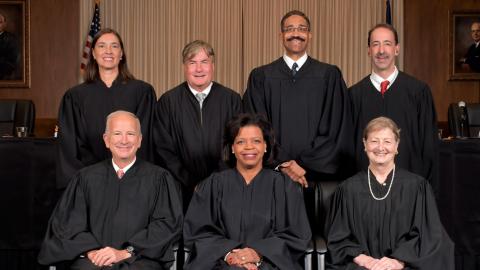 The Supreme Court of North Carolina held traveling sessions in Salisbury, Asheboro and Winston-Salem this week in celebration of its bicentennial anniversary. Chief Justice Cheri Beasley and associate justices held court in Salisbury on September 30, Asheboro on October 1 and Winston-Salem on October 2. They heard oral arguments in two cases at each location. View the calendar of arguments for cases and more details. 
"We were welcomed with open arms into Rowan, Randolph and Forsyth counties," said Chief Justice Cheri Beasley. "Each community extended an abundance of grace and hospitality in allowing us to share our court's proceedings during this historic bicentennial anniversary year."
Student groups, the general public and members of the legal community attended the sessions, filling and overflowing courtrooms for most of the locations. The Judicial Branch and local municipalities provided overflow venues, and all six cases were streamed live on Facebook to include those unable to attend the session in person.
Under state law, the Supreme Court can meet in only two other cities outside of Raleigh — Edenton and Morganton. The General Assembly granted the Supreme Court's request to allow the justices to convene in cities across the state during the Court's 2018-2020 bicentennial celebration. The Piedmont is the third region across the state to host the Supreme Court during its bicentennial. The Court met in the western North Carolina communities in 2018, in eastern North Carolina communities earlier this year, and are planning several additional traveling sessions in November.