Delegates from Azerbaijan Learn About North Carolina and American Legal System
The delegates' week-long agenda provided them with an overview of the North Carolina Judicial Branch and American legal system.
Article contents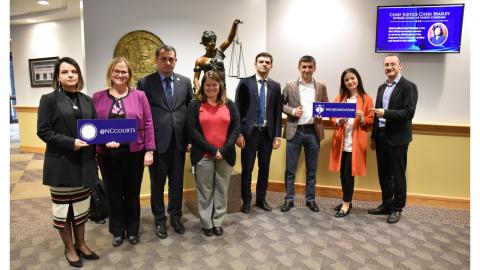 Six judicial delegates from the country of Azerbaijan recently visited the North Carolina Judicial Center as part of a week-long agenda that included visits with state and federal judicial officials and attorneys in Raleigh, Wilmington, and Winston-Salem. The visit was sponsored by the Open World Leadership Center through the Open World Program. The delegates were given an overview of how courts are administered in North Carolina, as well as an overview of the work of the North Carolina Dispute Resolution Commission.
The delegation included Aytan Teymurzade, a senior lawyer with international experience in commercial law; Faig Alizada, deputy head of the legal, appellation and internal control department, intellectual property agency of the Republic of Azerbaijan; Shabnam Sadigova, a lawyer with GRATA International that provides legal services to companies engaged in different industry fields; Shahlar Mammadov, senior legal consultant with KPMG, a "big four" firm that includes a global network of professional firms; Vugar Aghayev, senior advisor of the organization and supervision general department with the Ministry of Justice of the Republic of Azerbaijan; and Yusif Abasov, an economic advisor with the U.S. Embassy in Azerbaijan.
During their morning visit to NCJC, the group met with Tara Kozlowski, executive director of the North Carolina Dispute Resolution Commission, Frank Laney, circuit mediator in the U.S. Court of Appeals for the 4th Circuit, NCAOC Deputy Director for Court Programs and Services Danielle Carman, and Lori Cole, court management specialist.
"It was an honor to meet with the delegates from Azerbaijan," said Kozlowski. "Azerbaijan is in the beginning stages of implementing a mediation program, so I was impressed with their level of interest in mediation and was glad to share how the Dispute Resolution Commission's mediation programs operate."
The delegates' week-long agenda was designed to provide them with an overview of the North Carolina Judicial Branch and American legal system. Their first day included a visit in chambers with Senior Associate Justice of the Supreme Court of North Carolina Paul Newby and Senior Resident Superior Court Judge Paul C. Ridgeway at the Wake County Justice Center. The group also visited Congressman George Holding's office and observed a class at Campbell Law School. The delegates then traveled to Winston-Salem where they held a meeting at Womble Bond Dickenson, LLP, visited Wake Forest School of Law, and met with Judge Michael Robinson of the North Carolina Business Court. Back in Raleigh, the group met with Business Court Judge Gregory P. McGuire before meeting with United States District Court Judge James C. Dever III. They also had to the opportunity to visit the North Carolina State Fair as a cultural activity. The group then traveled to Wilmington where they met with a local law firm and explored the city.
About International Focus Open World Program
Founded in 1985, International Focus (Raleigh / Research Triangle, NC) is a nationally-recognized, community-based organization that hosts more than 350 visitors each year. International Focus works closely with the U.S. Department of State, USAID, National Programming Agencies, the Open World Leadership Center, and embassies abroad to facilitate international exchanges.