Mecklenburg County Courts Celebrate Juror Appreciation Month
Juror Appreciation Week is held annually to encourage all residents of the 26th Judicial District to applaud the efforts of jurors.
Article contents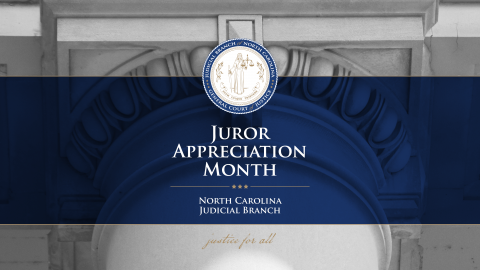 July is Juror Appreciation Month in North Carolina. Mecklenburg County court officials are celebrating with the Eighteenth Annual Juror Appreciation Week July 23 through July 27. During this week, special events will be held for jurors serving at the Mecklenburg County Courthouse in the Jury Assembly Room.
"We are so thankful to the citizens in Mecklenburg who serve as jurors," said Trial Court Administrator Charleston Carter. "Jurors fulfill an important civic responsibility and we hope everyone recognizes how their service benefits everyone."
Jury Appreciation Week begins with an opening ceremony on Monday, July 23 at 9:30 a.m. and the reading of the proclamation signed by Chief Justice Mark Martin declaring the month of July as Juror Appreciation Month.  
"We set aside this time each year to thank and recognize the thousands of North Carolinians who perform this important service to our courts," said Chief Justice Mark Martin, "Their active role in our system of justice makes it possible for the Judicial Branch to carry out its important mission of administering justice for all."
Guest speakers during the week include Superior Court Judge Lisa Bell and Chief District Court Judge Regan Miller, as well as other court employees who work in various roles. Jurors will be able to hold question / answer sessions with the guest speakers to learn more about their job the courthouse. Special guest speaker WSOC Channel 9 Anchor Brittney Johnson will talk to jurors about her jury service experience.
Food will be provided for jurors as well as free chair massages. Multiple drawings for door prizes donated by local businesses will be held each day throughout the week. Funding for Juror Appreciation Week is primarily sponsored by Justice Initiatives, Inc.