N.C. Administrative Office of the Courts Hosts First Tech Fair to Showcase Court Technology
The Tech Fair showcased court technology currently being utilized in courthouses across North Carolina.
Article contents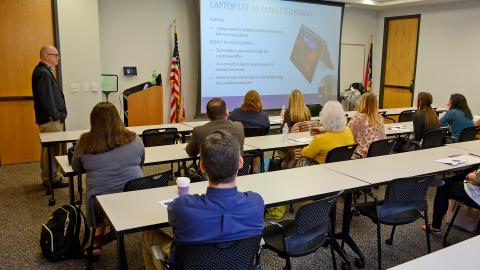 The North Carolina Administrative Office of the Courts (NCAOC) Technology Services Division (TSD) partnered with the N.C. Conference of Clerks of Superior Court to host a first-of-its-kind Tech Fair at the North Carolina Judicial Center (NCJC) November 6 and 7. Elected clerks of superior court were invited to attend and send available personnel from their offices for demonstrations of various court support technology currently being utilized in courthouses and courtrooms across North Carolina.
Over 200 people, representing 38 counties, joined during the 2-day event. The educational sessions were the same each day. Eleven topics were presented by TSD managers over the course of both days with a question-and-answer session at the end of each session. This format allowed participants to rotate to each classroom throughout the day to observe all demonstrations and allowed offices an opportunity to send more staff to attend.
"We are pleased to offer this unique event to showcase our court technology," said NCAOC Director Ryan Boyce. "The AOC continues to offer technology that enhances access to justice for the public and provides greater efficiency in our court offices and courtrooms across the state."
Technology sessions included the following:
eCourtNet - Integral to eCourts and the transition to the Integrated Case Management System (ICMS) implementation, a major network redesign effort was rolled out statewide. This project supports the ongoing effort to modernize the courts with functionality that enables employees to stay connected anytime, anywhere, securely by: replacing end-of-life network infrastructure in court facilities across the state, implementing a network design supporting cloud technologies, expanding network capacity and speed, and further securing the courts network and infrastructure.
Softphone - To assist with business continuity when weather conditions or other situations arise that may alter normal operations, NCAOC offers various technology connectivity / unified communications solutions that may prove beneficial including telephone capabilities via Webex using a laptop. 
Remote Hearing Scheduler - Provide means for NCAOC staff (Clerks, Judges, DAs) to use an intuitive, simple, central scheduling application for remote hearings
IDWeb - Hiring Authorities no longer need to fill out a form for new personnel and they can now add / update / separate accounts via the internet based IDWeb system.
Encrypted File Transfer | LiquidFiles - Judicial Branch staff use Encryption Email or LiquidFiles when transmitting Confidential or Highly Confidential information internally to other Judicial Branch staff or externally to individuals outside the Judicial Branch.
O365 -Furthering the NCAOC eCourts initiative, the upgrade of all Judicial Branch computers to Microsoft Office 365, MS Teams, and Windows 10 was foundational and helped to continue modernizing the courts with features that enable employees to stay connected anytime, anywhere. Rollout of Office 365 and Windows 10 to all counties was completed in 2019.
Webex vs MS Teams - Offers remote meeting and other remote capabilities for staff. 
Laptop Use as Tablet - Employee laptops can be used a tablet for easier portability, note taking,  and working throughout the courthouse. 
PaperCut - This system allows for copy / pay to print services within court facilities (replaced HECON) that ensures better security than previous technology.