Judicial Guest Wireless Network Instructions
View instructions and FAQs for connecting to the judicial guest wireless network in county courtrooms.
Summary
As part of ongoing eCourts initiatives, the Judicial Branch is further expanding courtroom wireless. Guests who want to utilize courthouse wireless will be required to walk through a multi-step process, using their wireless device, to validate their credentials. This is a NEW process and will be required of all guests during their first attempt to use the new expanded wireless system. See WAVE Wireless Guest Access Instructions in the files above to walk through the new process.
There are court facilities still undergoing wireless expansion. Judicial guests visiting these facilities will continue to use the process provided in Judicial Guest Wireless Network Instructions (PDF above). Find your county in the map below (green = use WAVE Wireless Guest instructions).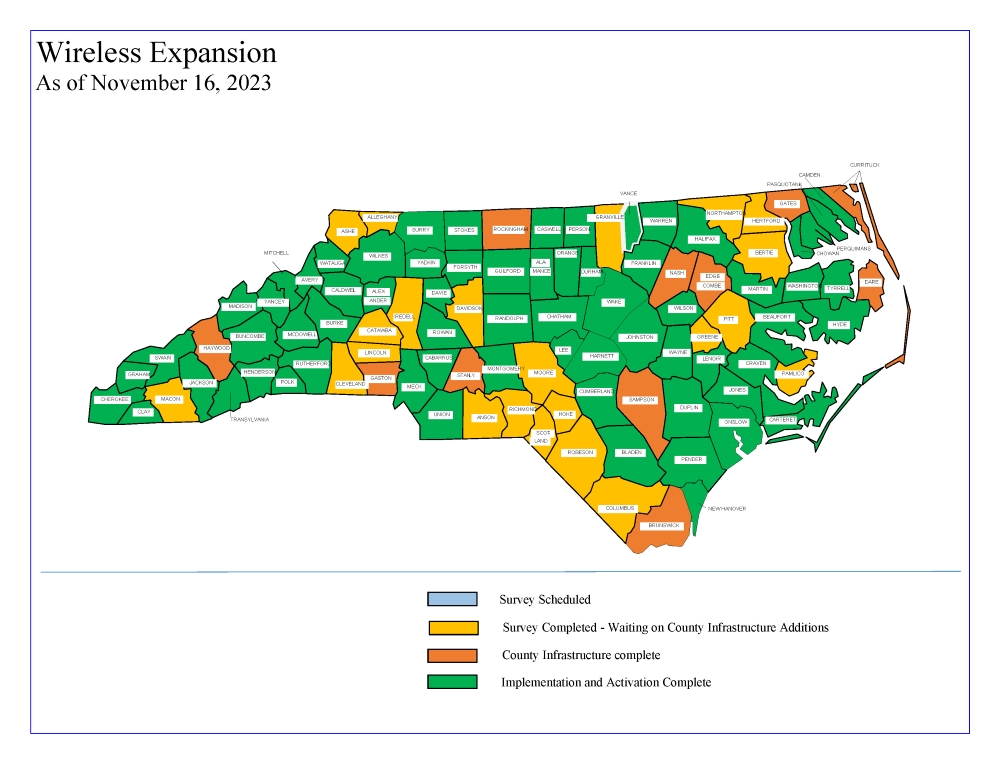 What courtroom areas have wireless coverage?
Judge's bench
Courtroom clerk area
Attorney tables
Witness box
What wireless access will be provided? Each courtroom is configured with two wireless networks. The networks will appear on Wi-Fi enabled devices as "<County Name> Judicial Guest" and "<County Name> Judicial Staff". For example:
Anson Judicial Guest
Anson Judicial Staff
What network access will be provided for judicial guests? Devices connected to the "<County Name> Judicial Guest" wireless network will have access to the internet and any existing judicial access (such as RPA, etc.). Judicial guests must accept the Terms of Use to connect to the "<County Name> Judicial Guest" wireless network. The Judicial Guest wireless network is intended to facilitate internet access for the public as they conduct judicial business in the courtroom.
What mobile devices (smartphones, tablets, etc.) are supported for wireless access?Android, iPhones, and tablets have been tested and will connect successfully to the wireless network. However, there are no guarantees that a personal mobile device will connect to our wireless network. In these cases, please contact your mobile device carrier for assistance. Judicial support will not be provided for any public owned devices.