eCourts
Find details and a timeline for the Judicial Branch's eCourts initiative to modernize and expand access to justice in North Carolina.
About
eCourts is an initiative of the North Carolina Judicial Branch to modernize our court system with the latest applications and technologies, taking the court system from paper to digital and from 20th century mainframes to cloud-based technologies.
For many years, the North Carolina court system case management application portfolio has relied on IBM mainframe technology, which is more complex to maintain and support. Our new eCourts Integrated Case Management System will be vendor supported and cloud hosted making case management and case filings more efficient and effective to access North Carolina justice system applications and data.
The North Carolina Administrative Office of the Courts worked with the National Center for State Courts to convene stakeholders, develop business requirements, and identify vendors. Tyler Technologies' Odyssey suite was the solution selected to help migrate court processes from a variety of older applications to one integrated case management system.
Benefits
Ensures continuity during emergencies (adverse weather and pandemic)
Streamlines court administration
Greater IT workforce options for modern infrastructure
Improves efficiencies
Enhances disaster recovery (fire and flooding)
Tyler Technologies' proven solutions are used in 38 states
Increases access to courts
Reduces paper forms
North Carolina's eCourts initiative is designed to meet the challenges from minor setbacks to major disasters, even including an unforeseen pandemic. Modernization of the court system is critical for disaster preparedness and information recovery, and the expected timely application of justice for all constituents statewide.
Mission
Fulfilling the mission of the Judicial Branch by delivering technology systems, tools, and processes that are expanding access to justice.
Timeline
Odyssey Rollout Plan Map 2021-2024
The configuration and statewide rollout are expected to occur starting the fall of 2021. A total of 12 tracks / phases will be rolled out statewide with a "big bang" implementation of all case types at the same time. After the pilot track 1 (Harnett, Johnston, Lee, and Wake) and early adopter track 2 (Mecklenburg), approximately 10 counties are expected to be rolled out every 3 – 4 months in tracks 3 – 12.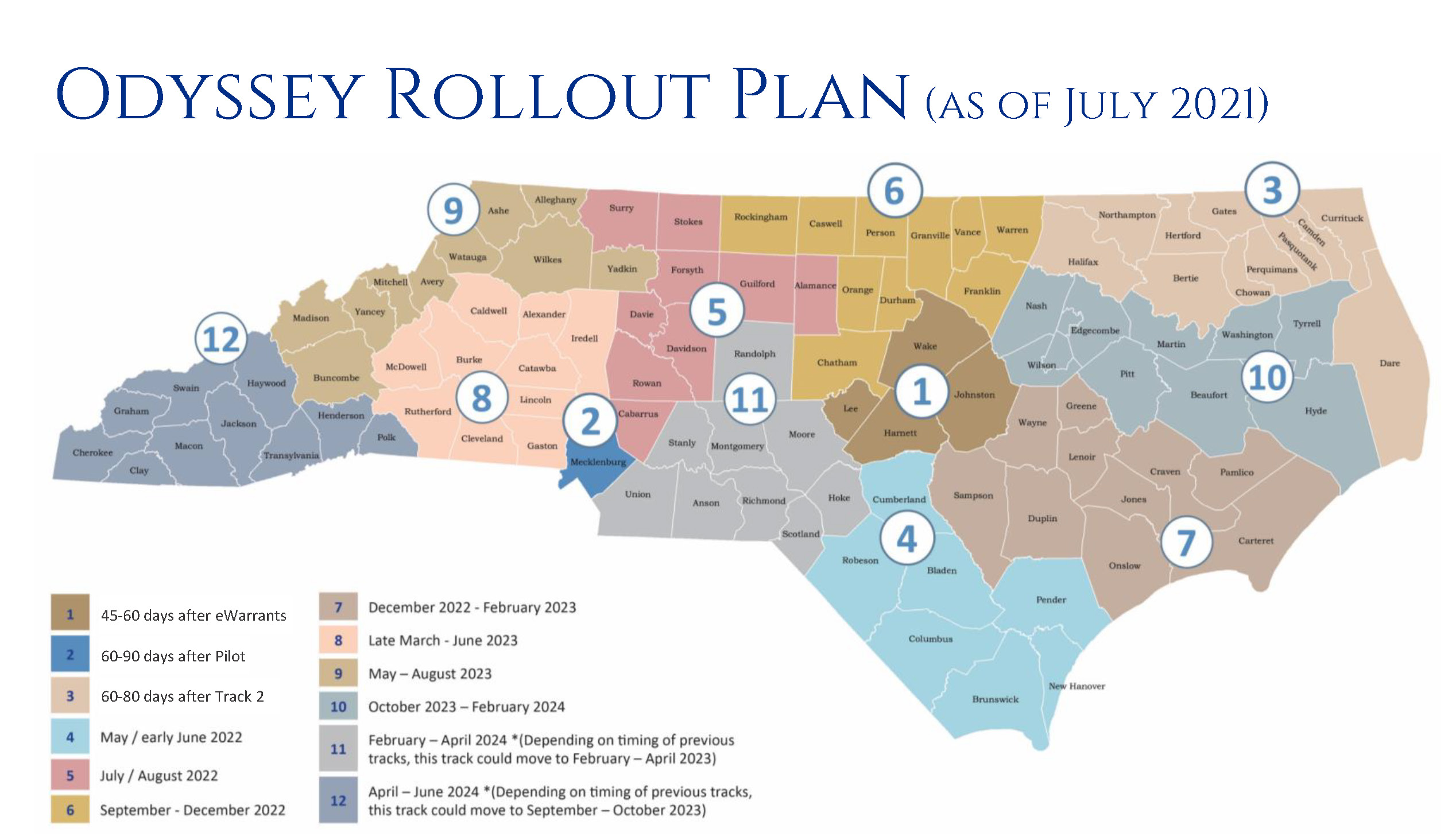 There are several features of the rollout plan:
Counties will have appropriate technology equipment installed at least six months before their go-live date
All counties in a district rollout at the same time
Avoiding coastal areas during peak hurricane season
Avoiding mountains during winter
Providing ranges for go-live dates while retaining some scheduling flexibility
Counties will receive their target go-live date and will begin preparations 8 to 12 months before their track rollout
It is important to be aware that user will no longer be able to use legacy systems (for example, ACIS, VCAP, CCIS-CC, CCIS-DA, CCIS-PD, JWISE, CASEWISE) for inquiry into the pilot counties (Harnett, Johnston, Lee, Wake) once they go live on Odyssey. You will instead use Odyssey for inquiry (i.e., lookup) of cases in counties who have switched to Odyssey. Note that the plan for Odyssey does not change the ongoing rollout activities for Brazos (eCitation replacement) or eWarrants (NCAWARE replacement). 
 
eCourts Initiative
Primary Audience
Target Go-Live Date
Guide & File
Self-represented litigants, public, and attorneys
Launched August 31, 2020
Brazos (Tyler eCitation Solution)
Pilot Law Enforcement Agencies (5)
Launched December 7 – 9, 2020
Statewide – remaining eCitation law enforcement agencies
Launched January 18 – April 30, 2021
(Agencies were sequenced and scheduled for rollout)
NCAWARE Replacement
(Tyler eWarrants / Odyssey for Magistrates)
Statewide (Magistrates, Clerks, Law Enforcement)
Fall 2021
Integrated Case Management System (ICMS) Pilot
Harnett, Johnston, Lee, and Wake Counties
Fall 2021
Odyssey (ICMS)
Upgrading from 40+ Applications to an Integrated Case Management System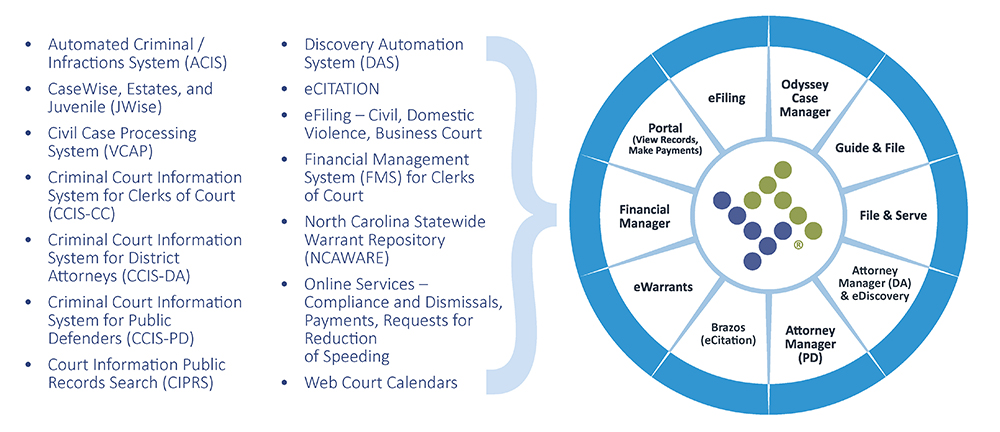 FROM in-house, NCAOC-built, multiple case management / index systems housed on mainframes TO vendor-provided and hosted integrated case management system hosted in the cloud with eFiling for all case types.
24/7 Electronic Access Benefits All North Carolinians
Provides 24/7 statewide service to judges, magistrates, district attorneys, clerks, law enforcement, attorneys, and the public — across rural and urban areas
Small business owners (after-hours access)
Law enforcement officers (remote appearances)
Rural North Carolinians (reduced travel to courthouses)
Victims of domestic violence (reduces the emotional trauma of in-person appearance)
Sheriffs and corrections officers (inmates appearing virtually reduces security risks and transportation costs)
Families (remote appearances for children and guardians ad litem in custody disputes)
Doctors and expert witnesses (remote appearances means less time waiting in court and cost reduction)
Attorneys (increased availability of records and ease of case management)
Judicial officials (swifter administration of justice)
 

 
Tyler Technologies' Odyssey suite will replace older legacy systems and integrate all of these products into one total case management solution including eFiling, financial management, and document management for all case types. This new system will bring higher efficiencies to the justice system, electronic access to information, reduce manual processes and reliance on paper, and increase collaboration among court officials, lawyers, and law enforcement officers. Odyssey's specific products include the following:
Odyssey NavigatorOdyssey Case Manager™
Track all aspects of court administration, from eFiling through disposition, and manage highly sensitive data about court cases.
Use streamlined electronic processes and eliminate paper handling.
Odyssey Attorney Manager™
Manage caseloads and track critical data.
Aids both prosecuting attorney and public defender offices by organizing and maintaining case data for hearing and trial preparation.
Review, gather, and track essential information for both criminal and non-criminal case types by using case statuses, witnesses, victims, evidence, statistics, and related case information.
Odyssey Financial Manager
Manages the entire transaction audit trail — from account management to financial transactions and check processing — without having to rely on a third-party financial application.
Users can verify payment forms, produce a summary of financial activity, and much more.
---
Odyssey eSolutionsOdyssey File & Serve™ (eFiling)
File documents electronically through a single, secure, centralized online location.
Launched statewide August 2020, the free online service available to help self-represented litigants and attorneys to prepare court documents online to file for certain case types.
Portal
View case information and documents online (depending on rights and roles).
Make instant online credit card transactions (applicable fees may be charged).
---
Odyssey In-Courtroom ProcessingOdyssey Judge Edition and Odyssey Clerk Edition
Provide in-courtroom processing to support electronic court record management workflow and high-speed data entry.
Include judicial workbench for access to electronic court records by justices and judges.
---
Older Computer Applications Will Not be Updated
The new case management system will replace older systems such as ACIS, VCAP, CCIS-CC, CCIS-DA, and CCIS-PD. To support this new work, NCAOC is realigning its resources so that older systems can be maintained until they are retired, the infrastructure can be redesigned and updated to support the new technology, and the new system can be configured and launched statewide. Because older legacy systems are being replaced, NCAOC has suspended all enhancements to these old systems.
Note: It is important to be aware that users will no longer be able to use legacy systems (for example, ACIS, VCAP, CCIS-CC, CCIS-DA, CCIS-PD, JWISE, CASEWISE) for inquiry into the pilot counties (Harnett, Johnston, Lee, Wake) once they go live on Odyssey. You will instead use Odyssey for inquiry (i.e., lookup) of cases in counties who have switched to Odyssey.
Odyssey (ICMS) Counties
There are currently no counties live with Odyssey (ICMS).
| Track | Counties | Target Go-Live Date |
| --- | --- | --- |
| Track 1 - Pilot | Harnett, Johnston, Lee, Wake | Fall 2021 |
| Track 2 - Early Adopter | Mecklenburg | 1st Quarter 2022 |
Pilot Counties
Find materials from recent eCourts pilot county town hall meetings. 
Brazos (eCitation Replacement)
The eCitation cutoff / Brazos go-live was April 30, 2021.
Brazos is Here! New eCourts eCitation Replacement System Launching in Five Pilot North Carolina Law Enforcement Agencies
Statewide replacement of North Carolina's current electronic citation system, eCITATION.
Electronic citation solution for the court system and law enforcement agencies that provides citation information immediately available to court users statewide.
Provides additional advantages, integrates, and improves efficiencies with the integrated case management system (ICMS).

 
eCourtNet - Infrastructure Improvement Project
eCourtNet, the infrastructure improvement project piloted in counties during fourth quarter of 2020, will continue throughout the state in 2021. These upgrades serve as the foundation for the new Integrated Case Management System (ICMS) implementation and support other applications and tools that will be offered to all Judicial Branch staff.
Embracing the eCourts vision to expand access to justice, additional technology initiatives underway within the Judicial Branch are providing the building blocks for future technologies necessary to modernize the courts. This includes:
Court facility ICMS infrastructure
Court facility wireless expansion
Courtroom audio / visual enhancements
Electronic faxing

Identity & access management
Network infrastructure upgrades
Security expansion
and more
eWarrants & Odyssey for Magistrates (NCAWARE Replacement)
Statewide replacement of current electronic warrant system, North Carolina Statewide Warrant Repository (NCAWARE).
Maintains detailed information about criminal processes, such as warrants, magistrate orders, citations that lead to an arrest, criminal summonses, orders for arrest, release orders, and appearance bonds.
The target go-live date is fall 2021.
Guide & File
Launched statewide in all counties August 2020, Guide & File is a free online service available to help self-represented litigants and attorneys to prepare court documents online to file for certain case types. Working much like popular tax preparation software, this online tool guides users through a series of questions (an interview) to generate court forms that are ready to be printed and then mailed to or filed at the courthouse as they do currently. It is the first service to launch through Tyler Technologies improving access to courts and is available 24/7 at NCcourts.gov/Services.
In the future as a county goes live with Odyssey (ICMS), users will be able to file these forms electronically.