North Carolina Sentencing and Policy Advisory Commission Study Recognized in Notable Government Documents
Sentencing and Policy Advisory Commission earns national recognition for its Study of Employment Collateral Consequences in North Carolina.
Article contents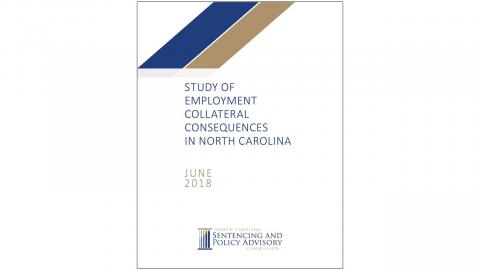 The North Carolina Sentencing and Policy Advisory Commission has earned national recognition for a report showing that in North Carolina, former offenders struggle to gain work, even though ex-offenders who have a job may be less likely to re-offend.
The American Library Association's Notable Government Documents featured the 2018 report, titled "Study of Employment Collateral Consequences in North Carolina," in the May edition of Library Journal magazine.
"We are excited for our report to be recognized," said Chief District Court Judge Charlie Brown, Commission chair. "Collateral consequences is a complex topic with significant implications for offenders. We are glad our work is contributing to the conversation."
The Commission's report was nominated by the State Library of North Carolina. The report examines how collateral consequences and logistical barriers impact recidivism and offers a perspective on the multi-faceted and interconnected factors many offenders face when seeking employment after conviction. The report also includes the many ways in which the state and community organizations work to help offenders overcome those barriers.
North Carolina ranks 12th in the nation regarding the number of collateral consequences related to employment and occupational and professional licensing and certification. The report notes concerns raised by the state's numerous penalties related to employment, including:
Notice to defendants of possible consequences following conviction
The nexus of the consequence to public safety risks
The potential uneven application in consequences among defendants
The growing number of collateral consequences without any requirement for review
The American Library Association annually recognizes federal, state, and local government publications from the previous year for "excellence in government publications, [to] identify documents of distinction, and commend individual works of superlative nature." Started in the 1980s, the notable documents list promotes "awareness and acquisition of government publications by libraries and ... to recognize the individuals and agencies involved in producing these excellent sources of information and inspiration." Publications are selected based on certain criteria, including the extent of the document's lasting value, innovation in presentation, reference and bibliographic value, and its contribution to providing information on important issues. The list is published in the May issue each year.
The Sentencing and Policy Advisory Commission was created by the General Assembly in 1990 to make recommendations for the modification of sentencing laws and policies, and for the addition, deletion, or expansion of sentencing options as necessary to achieve policy goals.
View the article online (registration required).