All Things Judicial Features Former Chief Justice Henry Frye's Historic Investiture Ceremony
Former Chief Justice Sarah Parker and former Governor Jim Hunt participated in this historic ceremony.
Article contents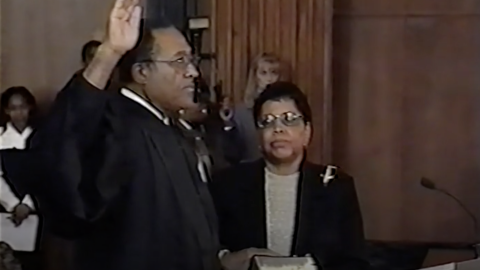 February is Black History Month and in the latest episode of the All Things Judicial podcast, we listen to excerpts from the 1999 investiture ceremony of Supreme Court of North Carolina's first African American chief justice, Chief Justice Henry Frye. During this historic ceremony, we hear from former Chief Justice Sarah Parker who administered the oath of office and former Governor Jim Hunt who delivered remarks honoring Frye. In the ceremony's conclusion, Frye spoke about his optimistic philosophy and gave heartfelt words of warmth and appreciation for the honor of serving the state of North Carolina in this position.
"Let me say a word about my philosophy," said Frye on the podcast. "I know that the world is full of problems, but I believe we should treat our problems as challenges and opportunities to do what is right and good."
Frye grew up in Ellerbe and graduated from North Carolina A&T State University and UNC School of Law. In 1983, Governor Hunt appointed Frye as associate justice of the Supreme Court, making him the first African American to serve on the state's highest court. In 1999, Governor Hunt appointed him chief justice. In addition to Frye becoming the first African American associate justice and chief justice, his other firsts as an African American included: assistant U.S. attorney for the Middle District of North Carolina in 1963, and the first (in the 20th century) to be elected to the North Carolina House of Representatives in 1969.
The full video of Chief Justice Frye's 1999 investiture can be viewed on the Judicial Branch YouTube Channel.