North Carolina Conference of Clerks of Superior Court 2023-2024 Officers Sworn In
The Honorable Catawba County Clerk of Superior Court Kim Sigmon was installed as the new president.
Article contents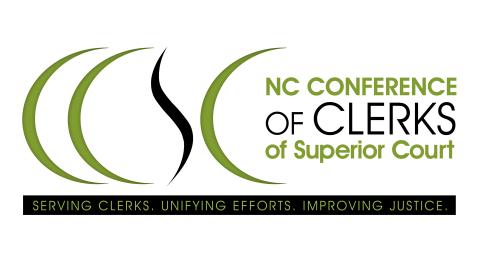 The N.C. Conference of Clerks of Superior Court (NCCCSC) recently held its annual summer educational conference in Carteret County at The Beaufort Hotel. Executive officers for the 2023-24 year were sworn in  by North Carolina Court of Appeals Judge Jefferson Griffin during a banquet ceremony. North Carolina Administrative Office of the Courts (NCAOC) Director Ryan Boyce helped present annual awards to clerks. 
"Our motto is to serve clerks, unify efforts, and improve justice," said NCCCSC Executive Director Jamie Lassiter. "We are excited to begin a new year of leadership and build on past accomplishments of our previous presidents who were in attendance at the banquet in Beaufort."
Catawba County Clerk of Superior Court Kim Sigmon was installed as the new president of the NCCCSC for 2023-24. Clerk Sigmon has been active in the Conference and with NCAOC during her nearly 10-year tenure as clerk. She has served on numerous committees for the Judicial Branch and the Conference and has been involved with the Rethinking Guardianship workgroup. "I am enthusiastic for the continued implementation of eCourts across North Carolina during my year of leadership," said Clerk Sigmon.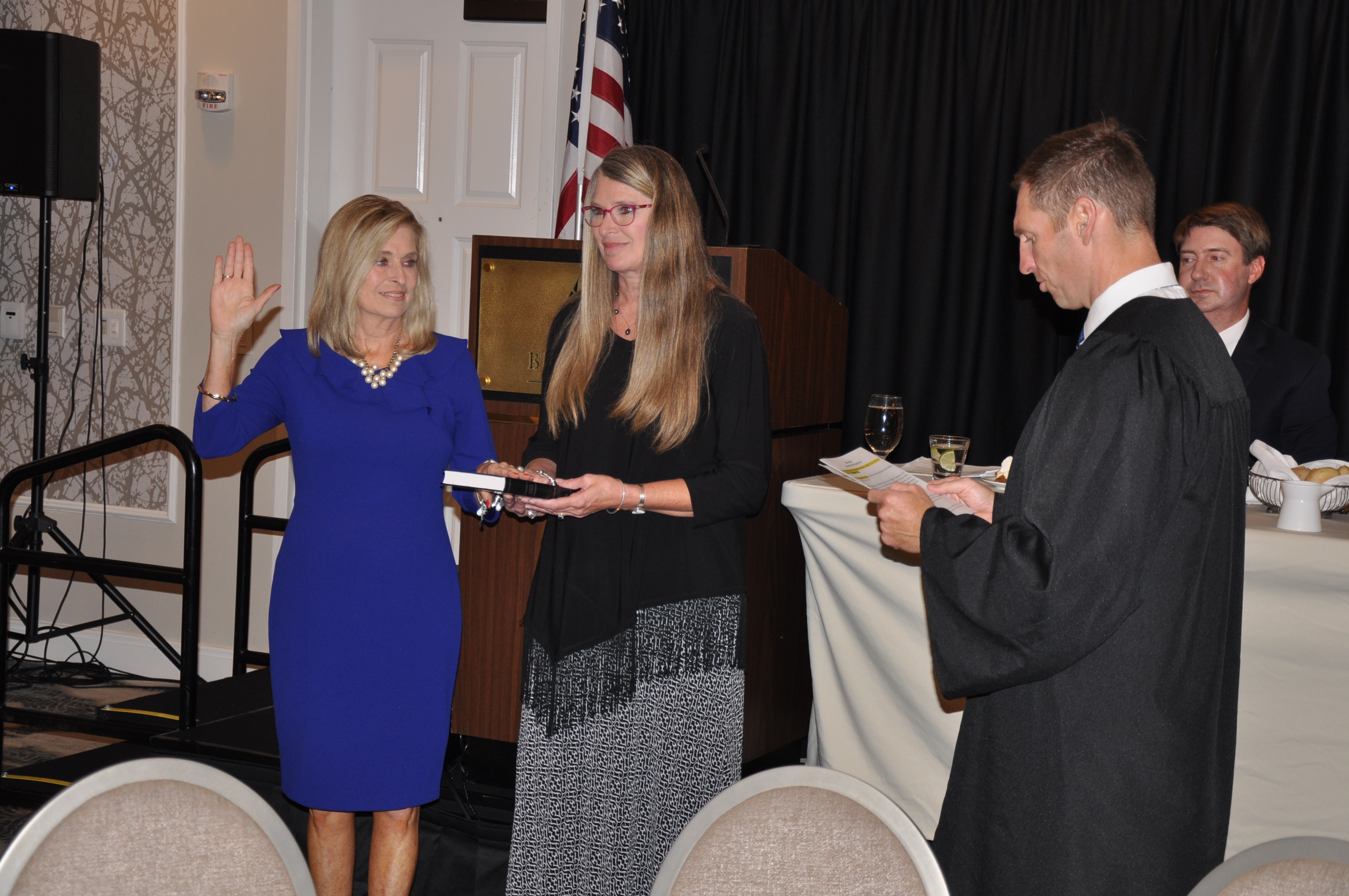 Judge Griffin administered the Oath of Office to additional officers who include: Iredell County Clerk of Superior Court James (Jim) Lee Mixson III as first vice president; Columbus County Clerk of Superior Court Jesse Hill as second vice president; Lee County Clerk of Superior Court Deborah (Susie) Thomas as secretary; and Guilford County Clerk of Superior Court Lisa Johnson-Tonkins as treasurer.
As incoming President, Clerk Sigmon selected an executive committee made up of clerks who represent counties varying in size. The 2023-24 executive committee members include: Anson County Clerk Mark Hammons; Richmond County Clerk Vickie Daniel; Chatham County Clerk Dana Hackney; Orange County Clerk Mark Kleinschmidt; Robeson County Clerk Shelena Smith; Union County Clerk Wendy Maynard; and Johnston County Clerk Michelle Ball. The executive committee meets monthly and discusses business as it relates to the clerk's office, the court system, county-related issues, and the Conference.
Awards
The President's Award was presented to the Chatham County Clerk Dana Hackney and Alamance County Clerk Meredith Edwards. This award was established to recognize clerks who have unselfishly given themselves to their work. These elected clerks are the co-chairs of the conference resource committee and have advocated for filling staff vacancies, ensured the NCOAC workload formula is properly formulated, and explored the need for additional assistant and deputy clerk positions across the state.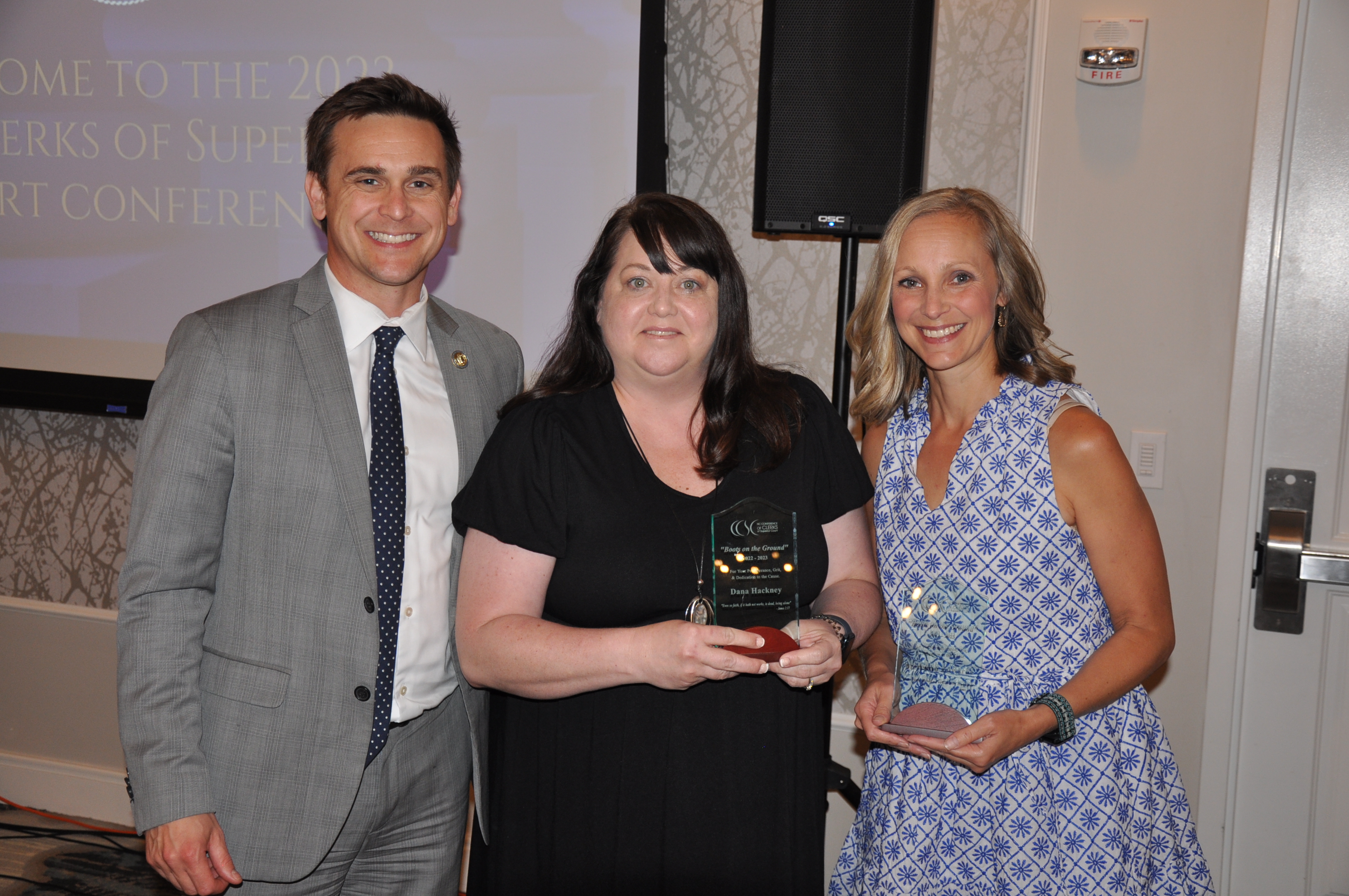 The "Boots on the Ground" Award for Perseverance, Dedication to the Cause and Grit was given to the clerks in the four eCourts pilot counties (Harnett, Johnston, Lee, and Wake) for their initial and ongoing efforts regarding the launch of eCourts. The clerks' staff in these offices deserve much praise and thanks for their hard work.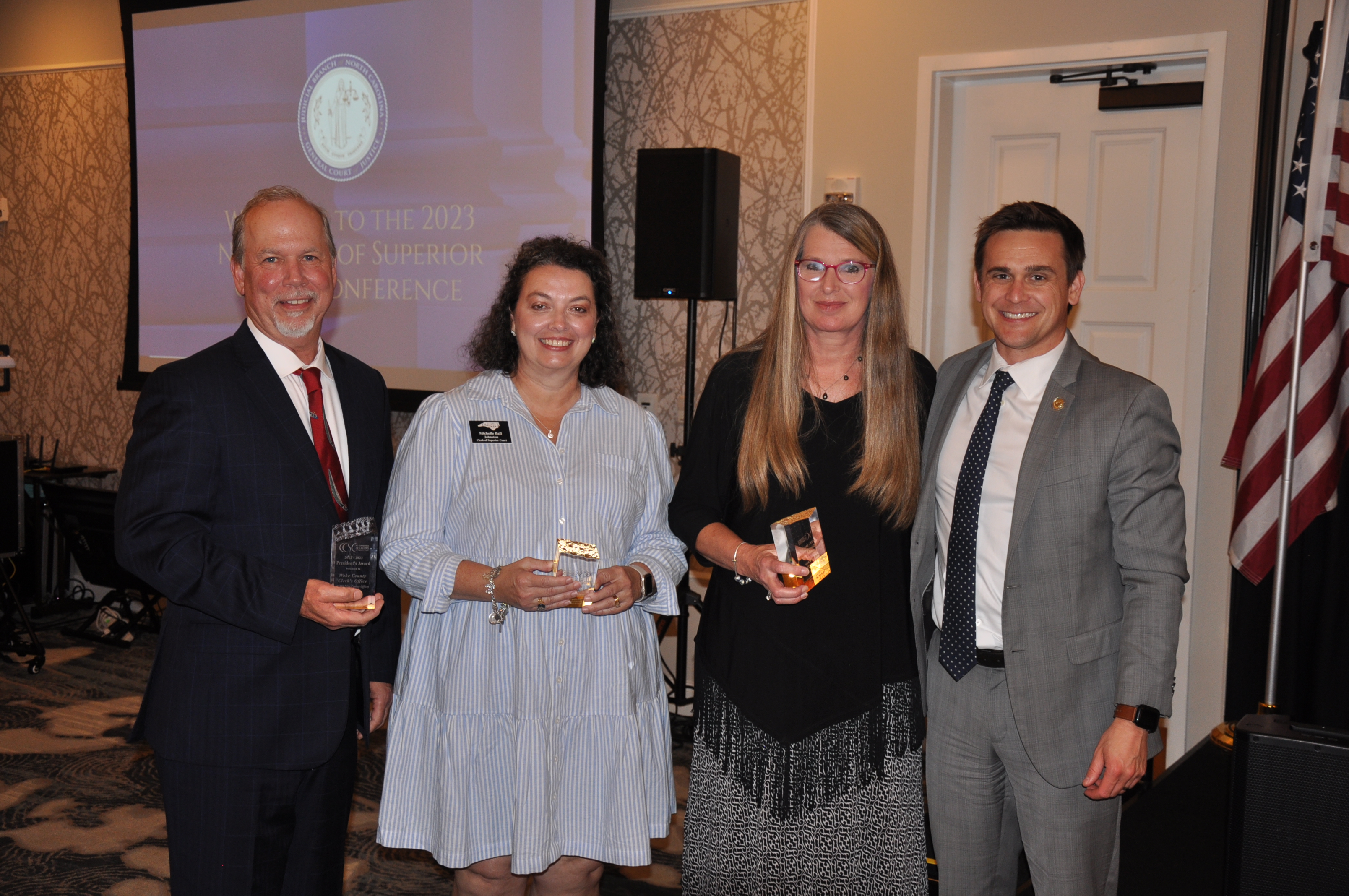 The Order of the Long Leaf Pine was presented to recently retired Warren County Clerk Lisa Blalock for her years of service to North Carolina. Franklin County Clerk Shelley Dickerson presented the award to Clerk Blalock.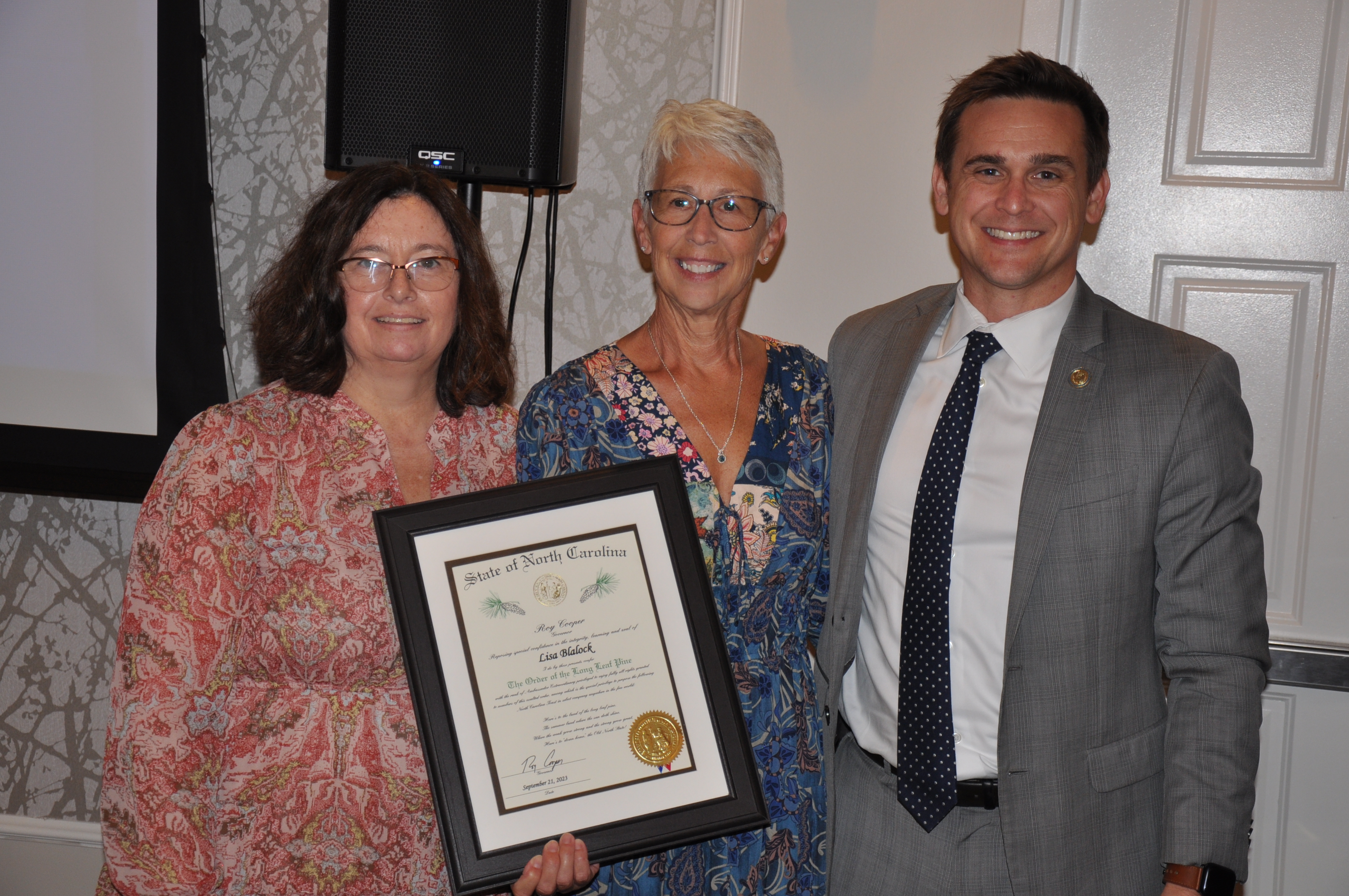 The Rachel Joyner Award was presented to retired Dare County Clerk Betty Mann. This award is named after long-serving Nash County Clerk of Court Rachel Joyner who retired after an extraordinary 65 years of service in the clerk's office. This award represents and embodies the spirit of the work of the clerk of court. Nominations are submitted and voted on by peers and can be given to anyone who advances the role of the clerk in the court system.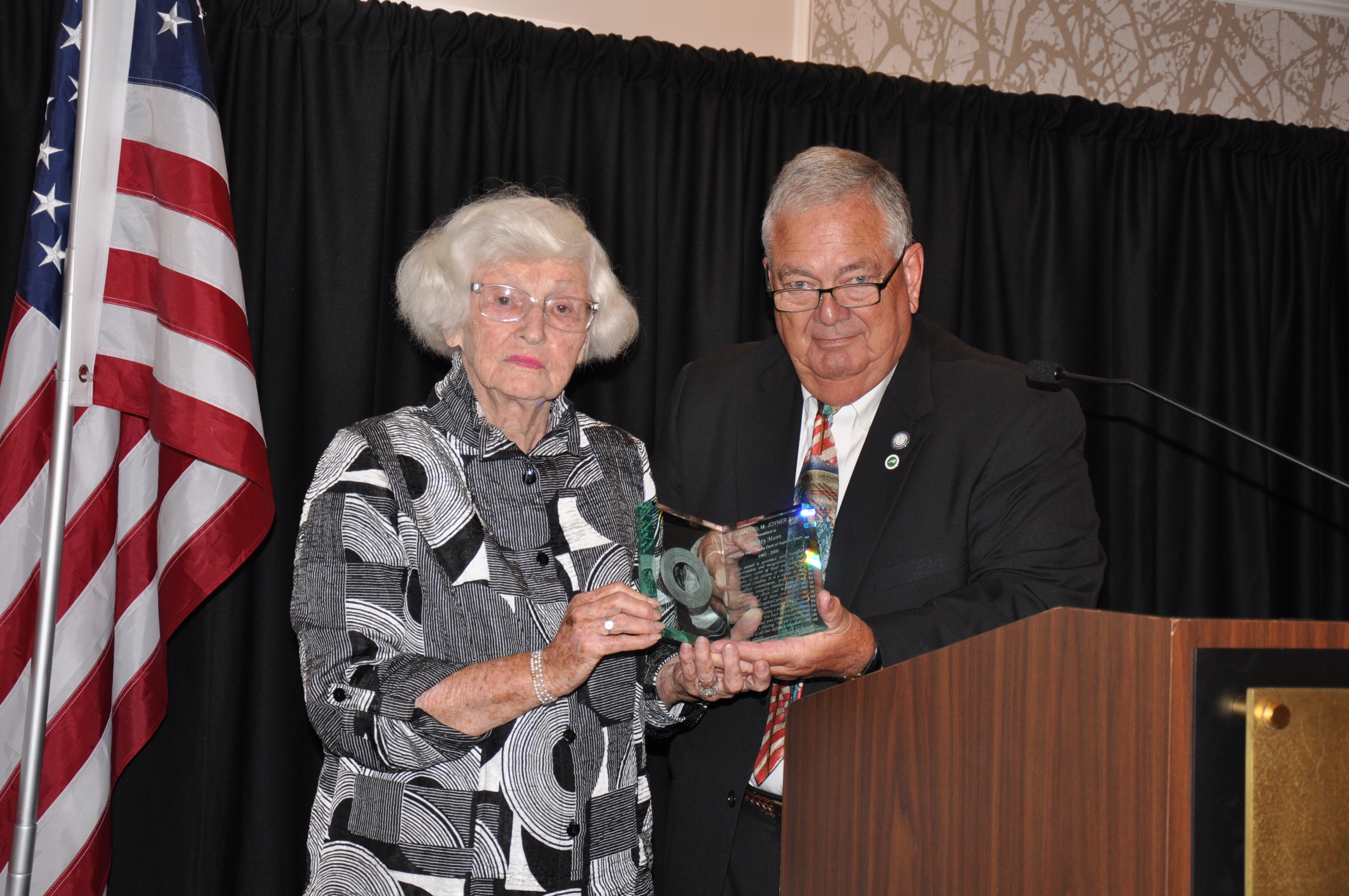 Tyrrell County Commissioner and retired Clerk Nathan "Tommy" Everett, who won the award last year, presented it to this year's winner.
"When Clerk Mann was in office, she was not afraid to literally test the waters," said Everett. "She would take folks out by boat for 'meetings' and not bring them back to shore until she got what she needed. She helped form what is now the Conference of Clerks of Superior Court as we know it."
About Conference of Clerks of Superior Court
The Conference of Clerks of Superior Court was created in 2006 by the N.C. General Assembly to improve the administration of justice in North Carolina. The Conference, consisting of 100 elected clerks from across the state and supported by administrative staff, works to improve public accessibility to the courts through the clerk of superior court, serve as a resource for the clerks in key areas of court administration, and to act as a liaison on behalf of all elected clerks of superior court to governmental and non-governmental stakeholders.