Human Trafficking Commission
Charged with examining and combating human trafficking in North Carolina.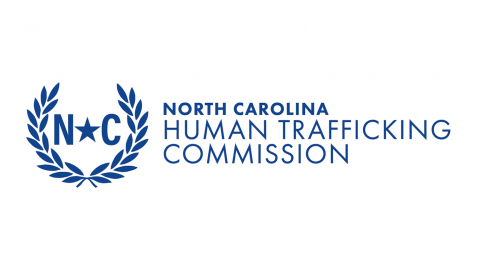 National Human Trafficking Hotline
1-888-373-7888
Contact for help, to talk, or report an incident. Help is available in your language. It is free, and it is confidential.
About
The North Carolina Human Trafficking Commission is the legislatively mandated leader of anti-human trafficking efforts in North Carolina per S.L. 2013-368. The Commission is charged with
Examining and combating human trafficking
Funding and facilitating research
Creating measurement, assessment, and accountability measures
Informing and educating law enforcement personnel, social services providers, and the general public
Suggesting new policies, procedures, and legislation
Developing regional response teams
Identifying gaps in law enforcement or service provision and recommending solutions
The Commission is housed in and staffed by the North Carolina Judicial Branch.
North Carolina Human Trafficking Commission Fact Sheet
Human Trafficking Commission Meetings and Minutes
More Information
View upcoming and past commission training sessions and events.
Find reports and related legislation of the Human Trafficking Commission.
Request the Commission to provide a training presentation or booth on human trafficking awareness.
Resource Library
Awareness Signs
HELP US TO RAISE AWARENESS!
The following posters are available for you to download, print, display, and share. Posters should be displayed in a place that is clearly conspicuous and easily visible to employees and the public. Mandated Awareness Sign Locations
Instructions to obtain a copy of these awareness signs:
Download a PDF copy to print. To view and print a compliant version of the poster, please click on the links below in the language and size needed. All of the online posters are displayed in Adobe Acrobat PDF format which should be viewable with your web browser.

Click the preferred size and then download and save the file. Then, open the file in your PDF reader program. For best results, do not print the file directly from the web browser.

For commercial printing, please use the "professional printer" link that is print ready with crop marks. 

Before printing the file, check to ensure that your printer can produce the specific poster size. If not, then set the printer settings to "Shrink to Fit" and select the proper paper tray. NOTE: These instructions are general because the configurations for each printer varies.
Print the poster and display it to raise awareness.

Download an image to share on social media. Click on the thumbnail to view a larger image. Simply right-click on the poster thumbnail and save the image. Then, share it on Facebook, Instagram, Twitter, etc., to raise awareness to STOP HUMAN TRAFFICKING!
For more information about posting the awareness signs or requesting a specific translation needed for display, please email the North Carolina Human Trafficking Commission. Together, we can bring awareness to this crime and STOP HUMAN TRAFFICKING!
For programs using these signs for public awareness and outreach, please consider reading the following. The Senior Policy Operating Group (SPOG) Guide for Public Awareness Materials is now publicly available. This guide serves as a public resource that reflects the common messaging, standard statistics, and shared guidelines on images that SPOG agencies use when creating public awareness and external training materials.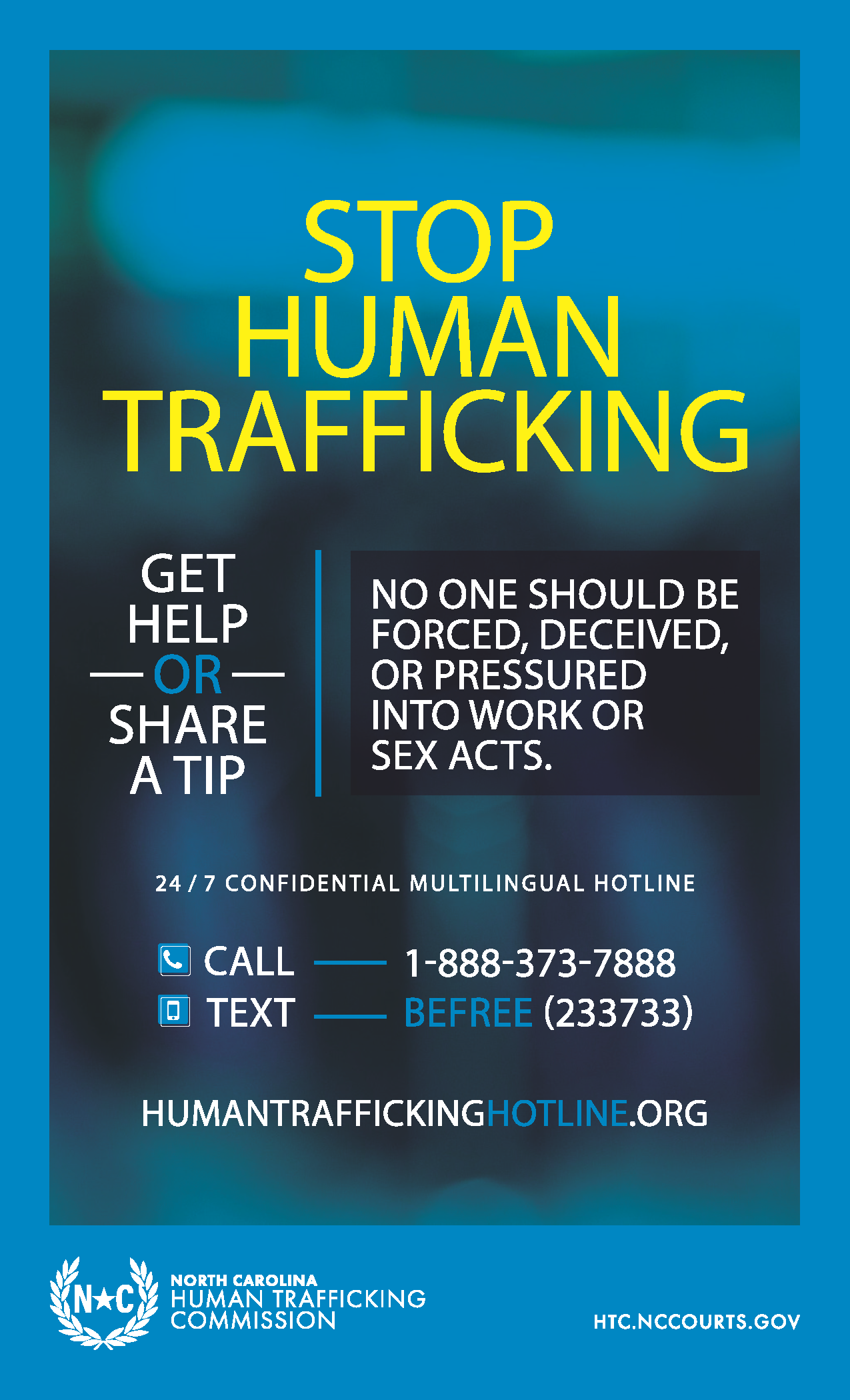 Latest News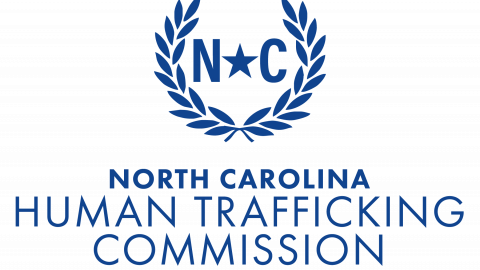 Chief Justice Beasley joins government leaders today to declare January 2020 as Human Trafficking Prevention Month.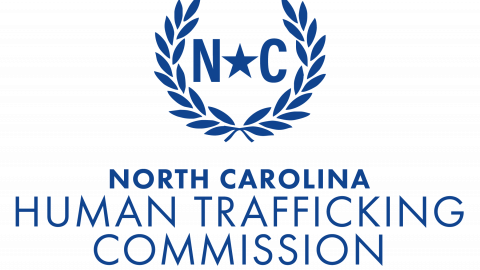 Started by a Presidential Proclamation in 2011, the prevention month is intended to raise public awareness of modern-day slavery.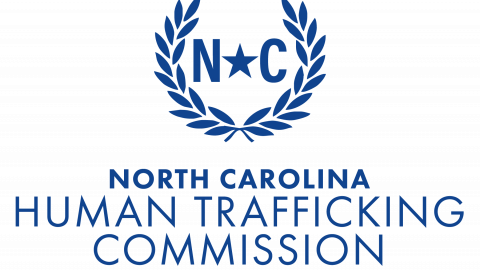 The grade is vital in understanding and comparing North Carolina's Human Trafficking Commission on a national level.
Contact
To receive updates about the Commission and upcoming events, please contact us.
Telephone(919) 890-1424
EmailChristine.S.Long@nccourts.org
Mailing AddressHuman Trafficking Commission
PO Box 2448
Raleigh, NC 27602
National Human Trafficking HotlineAsk questions, report an incident, or find help for a potential victim.
1-888-373-7888