Human Trafficking Commission Sponsored Training and Events
View upcoming and past commission training sessions and events.
Training
Upcoming
None at this time
---
Previous
Human Trafficking Commission Annual Conference 2022September 7-8, 2022
Hilton Raleigh North Hills
AGENDA
This year's annual conference will be held at the Hilton North Hills on September 7-8 in Raleigh, NC. It will bring together survivors, advocates, public safety and justice system personnel for networking, information about trends, and innovative ideas for investigative practices, prosecution, and service provision.
Bill Woolf (Founder, Anti Trafficking International, McClean, Virginia) will present the Keynote Address, and Plenary sessions will be provided by Lindsey Lane (Senior Legal Counsel, Human Trafficking Institute, Birmingham, Alabama), and Tanya Gould (Director, Anti-Human Trafficking Office of Attorney General VA, Human Trafficking Survivor Expert). A third Plenary will feature a multi-jurisdictional panel and case presentation.
Breakout session topics include Airbnb policies and protocols, J-1 and H2-B visa holder vulnerabilities, N.C. mandatory reporting, the investigation of human trafficking of disabled persons, the role of the EEOC (Equal Employment Opportunity Commission), complementary trauma-informed therapies, financial crime, and human trafficking, Open Source investigations, jail outreach, best practices and standards for shelter providers, and justice for survivors.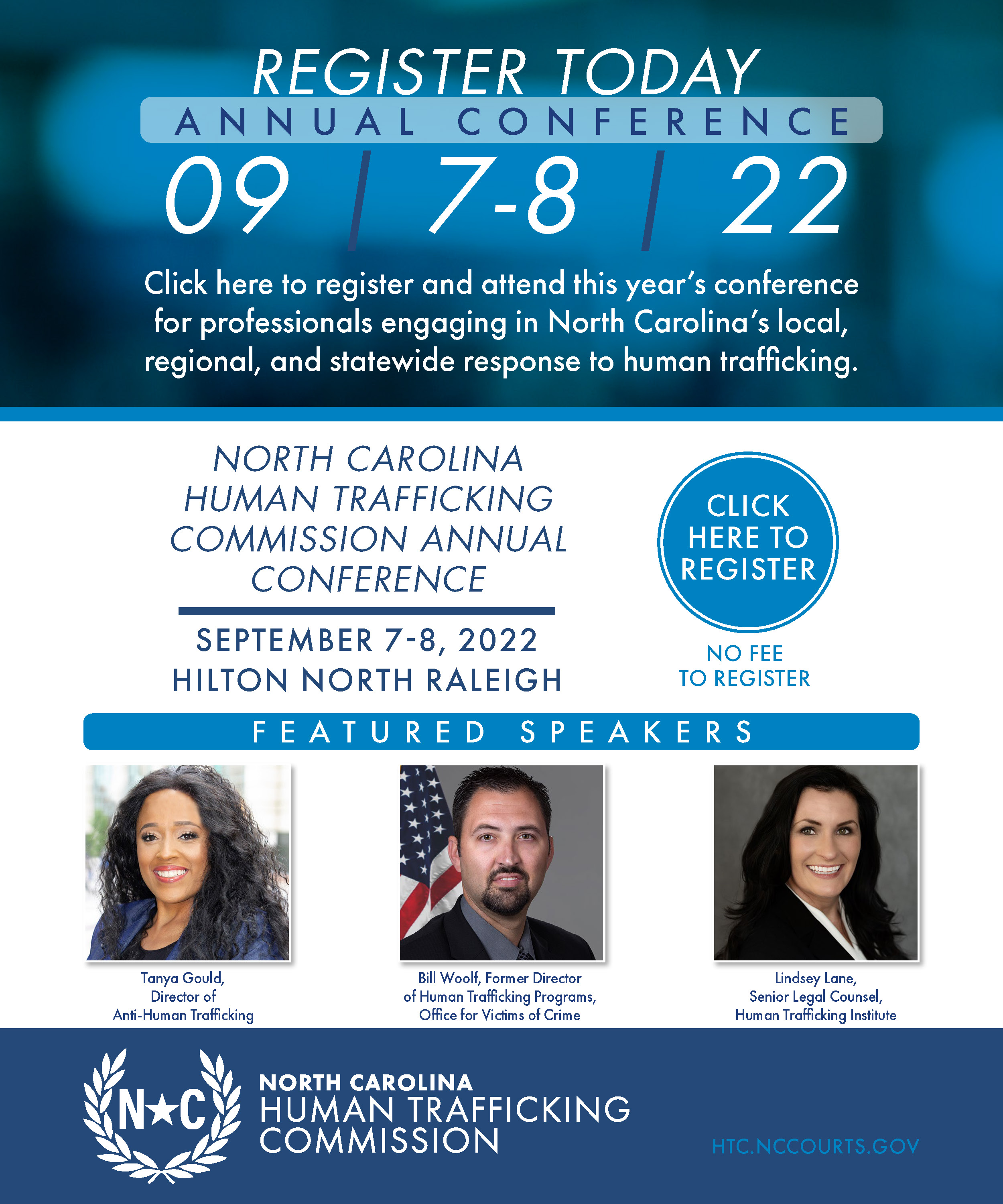 Human Trafficking Commission Annual Conference 2021September 15-16, 2021
Raleigh Marriott Crabtree Valley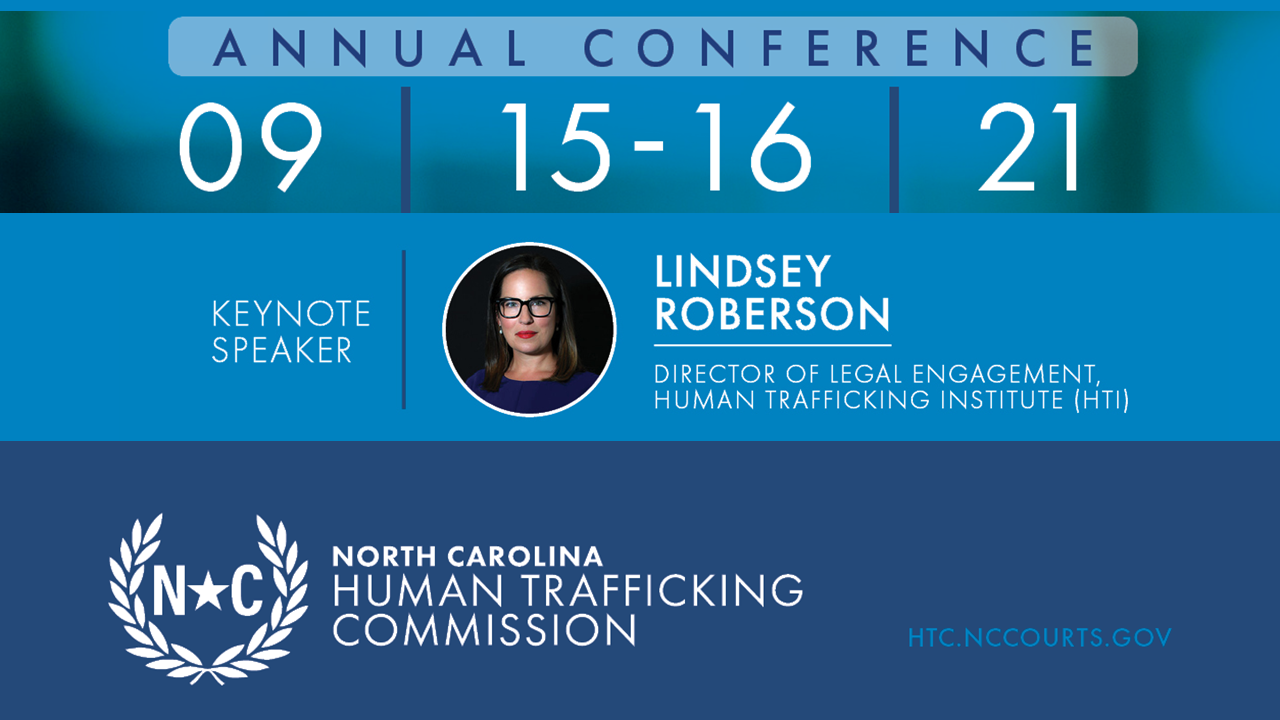 Human Trafficking Series Live Webinars
Series One: Human Trafficking Introductory Overview

June 15, July 20, August 17, September 1

Series Two: Human Trafficking Identification in Healthcare

June 17, July 22, August 19
Advanced Law Enforcement Training on Commercial Front Brothels
Trainings are 9 a.m. to 5 p.m., and are free and open to law enforcement and prosecution only.
July 15-16: Winthrop University, Carroll Hall, Rock Hill, SC
July 19-20: Charleston County Aviation Authority Police Department, Charleston, SC
July 22-23: N.C. Department of Insurance, Albemarle Building, 325 N. Salisbury Street, Raleigh, NC 27603
Strengths and Vulnerabilities: Lived Experience of Risk and Resilience Online Training Series
January 2021 Training Opportunities Hosted by the Commission:
Introduction to Human Trafficking (charlotteahec.org)
Regional Response Teams: Creating and Sustaining Community Collaboration (charlotteahec.org)
Identifying Trafficked Patients and Providing Trauma-Informed Care: A Guide for Health Care Professionals and First Responders (charlotteahec.org)
2019 Regional Symposium - February 20-21, Charlotte, NCThe North Carolina Human Trafficking Commission (NCHTC) held this regional symposium for service providers, law enforcement, advocates, legal providers, and other professionals engaging in North Carolina's local, regional, and statewide response to human trafficking. The symposium was held February 20-21, 2019, at the Friendship Missionary Baptist Church Conference Center in Charlotte, North Carolina.
2nd Regional Symposium – April 2018, New Bern
See the agenda from the second regional symposium held in New Bern in April 2018.
 
1st Regional Symposium – November 2017, Raleigh
See the agenda from the first regional symposium held in Raleigh in November 2017.