Human Trafficking Commission Sponsored Training and Events
View upcoming and past commission training sessions and events.
Training
Upcoming
Human Trafficking Commission Annual ConferenceSeptember 7-8, 2022
Hilton Raleigh North Hills
Reserve a room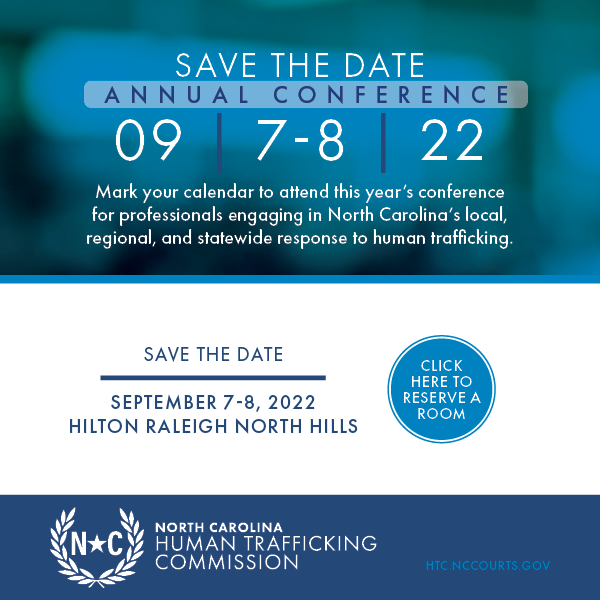 ---
Previous
Human Trafficking Commission Annual ConferenceSeptember 15-16, 2021
Raleigh Marriott Crabtree Valley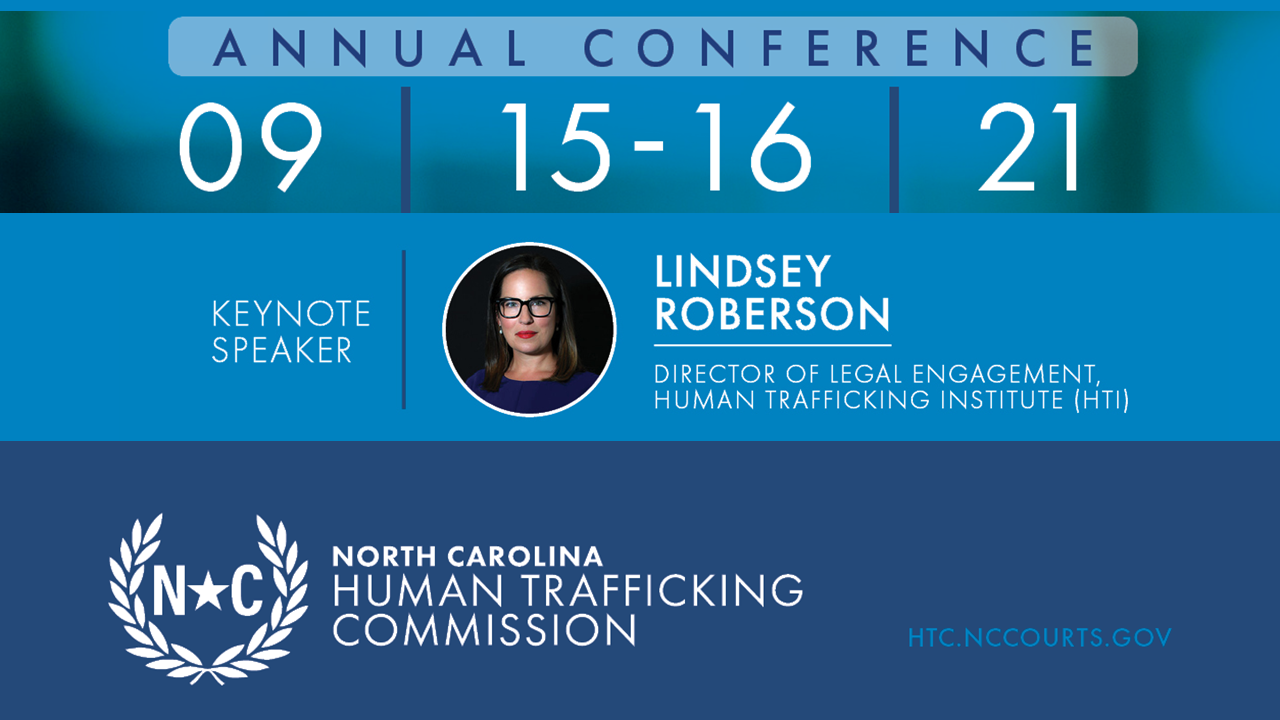 Human Trafficking Series Live Webinars
Series One: Human Trafficking Introductory Overview

June 15, July 20, August 17, September 1

Series Two: Human Trafficking Identification in Healthcare

June 17, July 22, August 19
Advanced Law Enforcement Training on Commercial Front Brothels
Trainings are 9 a.m. to 5 p.m., and are free and open to law enforcement and prosecution only.
July 15-16: Winthrop University, Carroll Hall, Rock Hill, SC
July 19-20: Charleston County Aviation Authority Police Department, Charleston, SC
July 22-23: N.C. Department of Insurance, Albemarle Building, 325 N. Salisbury Street, Raleigh, NC 27603
Strengths and Vulnerabilities: Lived Experience of Risk and Resilience Online Training Series
January 2021 Training Opportunities Hosted by the Commission:
Introduction to Human Trafficking (charlotteahec.org)
Regional Response Teams: Creating and Sustaining Community Collaboration (charlotteahec.org)
Identifying Trafficked Patients and Providing Trauma-Informed Care: A Guide for Health Care Professionals and First Responders (charlotteahec.org)
2019 Regional Symposium - February 20-21, Charlotte, NCThe North Carolina Human Trafficking Commission (NCHTC) held this regional symposium for service providers, law enforcement, advocates, legal providers, and other professionals engaging in North Carolina's local, regional, and statewide response to human trafficking. The symposium was held February 20-21, 2019, at the Friendship Missionary Baptist Church Conference Center in Charlotte, North Carolina.
2nd Regional Symposium – April 2018, New Bern
See the agenda from the second regional symposium held in New Bern in April 2018.
 
1st Regional Symposium – November 2017, Raleigh
See the agenda from the first regional symposium held in Raleigh in November 2017.