North Carolina Pro Bono Resource Center
To increase pro bono participation statewide.
 

"Those of us working on pro bono all strive for better access to justice; why not partner and bring our different talents, subject matter knowledge and ideas together in order to discuss and tackle some very difficult systemic issues? This has been my experience working with the North Carolina Pro Bono Resource Center, where the shared goal is to create solutions that reach more people in order to provide pro bono relief and positive results."

— Norah Rogers, Pro Bono Administrator, Nelson Mullins Riley & Scarborough LLP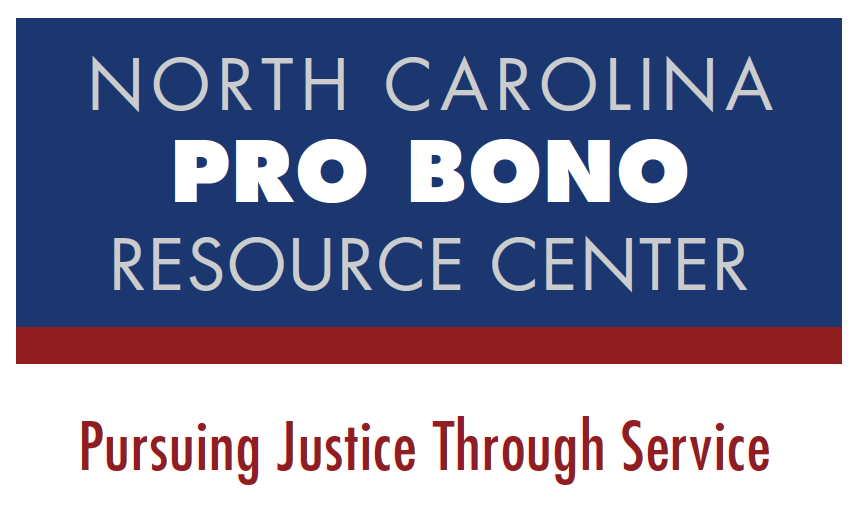 On April 1, 2016, the North Carolina Equal Access to Justice Commission launched the North Carolina Pro Bono Resource Center with the hiring of inaugural director Sylvia Novinsky. The Resource Center is one of only a handful of statewide pro bono resource centers in the country. The Resource Center was created with the intent that it would assist lawyers in fulfilling their professional obligations under North Carolina Rule of Professional Conduct 6.1, adopted in 2010. This rule, "Voluntary Pro Bono Publico Service," states in part: "Every lawyer has a professional responsibility to provide legal services to those unable to pay. A lawyer should aspire to render at least (50) hours of pro bono public legal services per year."
To support attorneys in their legal volunteerism, the Resource Center collaborates with legal aid organizations and community organizations throughout the state to develop pro bono projects. It focuses on opportunities to address unmet legal needs, creating clinics and other models of service delivery to provide needed legal services such as Expunctions, Driver's License Restorations, and FEMA Appeal assistance. More than 475 attorney volunteers have served more than 3,350 clients through Resource Center opportunities since January 2018. The Resource Center also provides support for existing pro bono activities through volunteer recruitment and educational trainings.
The Resource Center also conducts statewide voluntary pro bono reporting annually, through which attorneys can share information about all the activities encouraged by Rule 6.1. Attorneys who report completing at least fifty hours of pro bono legal services in a year receive recognition from the Supreme Court of North Carolina and are inducted into that year's cohort of the North Carolina Pro Bono Honor Society. In 2018, attorneys who reported their pro bono information provided more than 50,000 hours of free legal services to North Carolinians unable to afford legal help.
In addition to attorney volunteer opportunities, the Resource Center also convenes groups of attorneys in support of pro bono legal service statewide. For example, the Resource Center hosts Regional Pro Bono Councils in the Triangle, Triad, and Coastal Areas to discuss local challenges and opportunities in pro bono legal service delivery. Similarly, the North Carolina Pro Bono Resource Center Advisory Board is a group of eighteen attorney leaders of the North Carolina legal community who serve as a focus group to inform the Resource Center's perspective on both the substance and process of pro bono legal service and to increase pro bono volunteerism among attorneys across the state.
For more information about the Pro Bono Resource Center, visit ncprobono.org.