Forsyth County Clerk of Superior Court Susan S. Frye Presented with Friend of the Court Award
The Honorable Susan S. Frye, Forsyth County clerk of superior court received the "Friend of the Court" award by Chief Justice Beasley
Article contents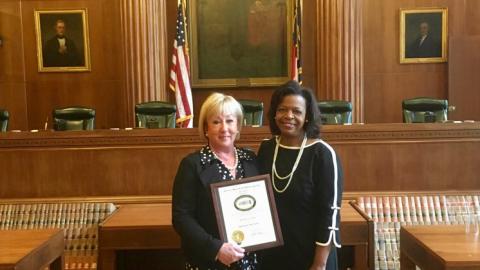 The Honorable Susan S. Frye, Forsyth County clerk of superior court received the "Friend of the Court" award by Chief Justice Beasley on Monday, May 20, for a career of dedicated service to the Judicial Branch. The Chief Justice presented the North Carolina Judicial Branch's highest award in a ceremony honoring Clerk Frye for her dedication and leadership. She retires as Forsyth County clerk of superior court on May 31, 2019.
"As Forsyth County Clerk of Superior Court, Susan Frye has worked diligently to introduce new technology to the North Carolina court system, enabling the people served by the courts to handle court business more efficiently," said Chief Justice Beasley. "Therefore, it is with sincere appreciation and deep gratitude that I present the Friend of the Court award to Clerk Frye."
While clerk of court, Frye implemented a number of technological advancements to create efficiencies in the work of her staff and to improve the public's access to court information in Forsyth County.
Representing clerks of court around the state, Frye served as an ex-officio member to the N.C. Commission on the Administration of Law and Justice, an independent, multidisciplinary commission that will undertake a comprehensive evaluation of our judicial system and make recommendations for strengthening our courts within the existing administrative framework.
Recently, Frye helped launch the Court Reminders program. Defendants, witnesses, law-enforcement officers and others go online, enter their name and court date and provide contact information. The system will send out a notification 72 hours before a defendant's court date and then another one 24 hours before the court date. The program was a collaboration between Frye's office, the Durham County Criminal Justice Resource Center and the Durham County Information Services and Technology Department. She also was an advisory committee member for the redesign of the court system's public website, www.NCcourts.gov, which launched in 2018.
Frye was appointed clerk of superior court for Forsyth County in December 2010 and won every election since then. She is an active member of the N.C. Conference of Clerks of Superior Court and has most recently been first vice president and chair of the Legislative Committee. Prior to that she was the past treasurer, secretary and chair of the statewide Clerks of Court Technology Committee. Outside of the courthouse, you will find Clerk Frye helping anywhere that will let her volunteer.