Harnett County Veterans Treatment Court Celebrates 5th Anniversary
View a gallery of photos from the 5 year anniversary celebration.
Article contents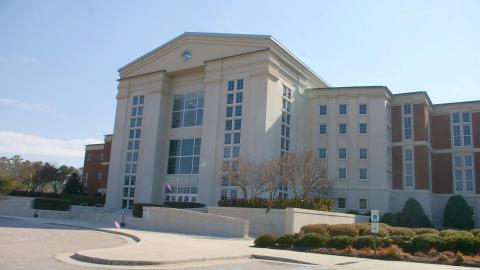 As our nation prepares to honor veterans on Veterans Day, Veterans Treatment Court (VTC) in Judicial District 11A (Harnett and Lee counties) is preparing to celebrate its five-year anniversary. A ceremony is planned for Wednesday, November 7, at 3:00 p.m. in Courtroom 6 in the Harnett County Courthouse to mark the occasion. Speakers include U.S. Senator for North Carolina Thom Tillis, Chief District Court Judge Jacquelyn Lee and Judge Marion Warren, director of the North Carolina Administrative Office of the Courts. Remarks also will be made by Army veteran Mark Davis. Several awards and recognitions will be made during the ceremony.
The first VTC established in North Carolina, this regional court serves veterans from as far as Morehead City, Jacksonville, Hillsboro and Cary. The VTC operates under the jurisdiction of district court and is similar to other recovery courts like drug treatment court. Harnett County's VTC is made possible through a collaborative partnership with Chief Judge Lee, District Attorney Vernon Stewart, Clerk of Superior Court Marsha Johnson, the Veterans Health Administration, the Veterans Benefit Administration, Harnett County Veterans Services, Central Carolina Community College and various veterans' service organizations and other community partners.
View Photo Gallery From the 5-Year Anniversary Celebration
About
The goal of Veterans Treatment Court is to help those who have served our nation and honor their service. The VTC is a recovery court that assists veterans who have pending criminal charges who want assistance resolving their criminal charges and help in treating their addiction and mental health conditions that resulted from their military service. The VTC uses a holistic approach to address substance abuse, mental health conditions, rehabilitation, healthcare, employment and housing.
Once assessed and approved for admission by the district attorney, veterans complete a treatment assessment to determine their level of substance use and / or mental health needs. Once the court approves admission, veterans are assigned to a treatment provider such as the Veterans Health Administration for an individualized treatment plan. Assessments are also made by veterans' administrations to determine eligibility for disability compensation, pension, education benefits, and / or vocational rehabilitation benefits, as well as housing, employment opportunities, medical and dental care, and even childcare. Veterans frequently appear before the court for review hearings to ensure compliance.
The five-phase VTC in Harnett County has proven to be successful. Recent reports indicate 92 percent of veterans entering this program have co-occurring issues and 86 percent have substance use issues. By phase IV, the percentage drops dramatically to 3 percent. To date, 52 veterans have been recognized as completing the VTC program. Currently, there are 40 active veterans in the program, with another 34 preparing to enter.