Chief Justice Cheri Beasley and Governor Roy Cooper Declare March 18 as Public Defender Day in North Carolina
Public Defender Day marks the 50th anniversary of the public defender system in North Carolina.
Article contents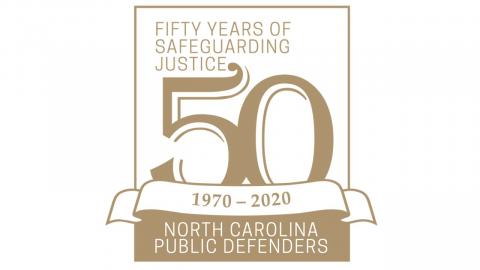 Chief Justice Cheri Beasley and Governor Roy Cooper have declared March 18 as "Public Defender Day" in North Carolina to mark the 50th anniversary of the public defender system in North Carolina.
"As a former public defender, I know firsthand the value that our system of public defense provides and I also know the challenges our public defenders face. Even as they confront growing caseloads and new areas of responsibility with fewer and fewer resources, they remain deeply committed to the principle that our courts must provide fair and timely justice for every person, no matter their income or status," said Chief Justice Beasley. "Today, I extend deep thanks on behalf of our entire Judicial Branch, to North Carolina's public defenders."
The North Carolina Office of Indigent Defense Services (IDS) and public defender officescommemorate 50 years of public defender offices in 2020. IDS is the state agency that supports legal representation for anyone unable to afford an attorney in court cases where there is a Constitutional or statutory right to counsel, particularly where there is a possibility of incarceration. Public defender offices are staffed by lawyers, investigators and administrative assistants who only handle cases assigned by judges.
The first public defender office opened in January, 1970 in Guilford County. Cumberland and Hoke counties opened offices in the summer that same year. The late Wally Harrelson was the first public defender in North Carolina and served Guilford County for 40 years. Today, there are 17 public defender offices in North Carolina, serving 35 counties. The offices of the Appellate Defender, Capital Defender, Juvenile Defender, Parent Defender and Special Counsel offer their services statewide.
"Public defenders bring accountability to our system of justice in a way that protects everyone," said Jonathan McInnis, chief public defender for defender district 16A (Hoke and Scotland counties). "Serving our clients zealously, preserving their fundamental rights guaranteed under the Constitution, is a serious responsibility and a great challenge," said McInnis. "Being one of the first offices in the state is an honor that is upheld by continuing the tradition of representing and caring for our clients like all the offices in the state." 
IDS plans to celebrate the 50th anniversary in a variety of ways including releasing documentary videos one of which will feature a panel of former and current public defenders who will talk about the history of public defenders in North Carolina. In addition, public defenders will be hosting symposiums at law schools and offering opportunities for internships. Local celebrations and special events are also planned. For more information about upcoming events, go to www.ncids.org.
About Indigent Defense Services
In August 2000, the North Carolina General Assembly passed the Indigent Defense Services Act of 2000 ("IDS Act"), which created the Office of Indigent Defense Services ("IDS Office") and its 13-member governing body, the Commission on Indigent Defense Services ("IDS Commission"). On July 1, 2001, IDS assumed a number of responsibilities, including: 1) overseeing the provision of legal representation to indigent defendants and others entitled to counsel under North Carolina law; 2) developing training, qualification, and performance standards to govern the provision of legal services to indigent persons; 3) determining the most appropriate methods of delivering legal services to indigent persons in each judicial district; and 4) providing services in the most cost-effective manner possible.