Chief Justice Martin Delivers State of the Judiciary Address to N.C. Bar Association
Article contents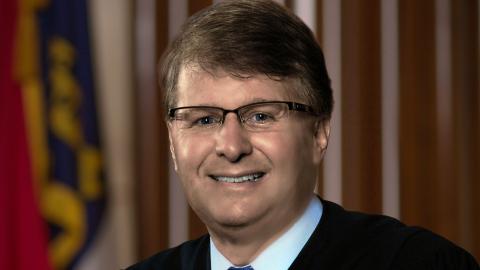 Chief Justice Mark Martin delivered his 2018 State of the Judiciary address at the North Carolina Bar Association's annual meeting, which took place in Wilmington on Friday, June 22. The address focused on the Judicial Branch's commitment to access, fairness and impartiality for the people of North Carolina.
"I'm proud to say that the State of our Judiciary is strong," said Chief Justice Martin. "Yet there's always work to be done to make it even stronger."
Chief Justice Martin provided an update on the accomplishments of the Judicial Branch following the release of the final report and recommendations of the N.C. Commission on the Administration of Law and Justice.
"We're pursuing many exciting opportunities to build a court system that we hope will serve our citizens even better than it ever has before—one in which, to paraphrase Theodore Roosevelt, no person is above the law and no person is below it," said Chief Justice Martin.
The Chief Justice highlighted the technological innovations that the Judicial Branch is working on to improve access to the state's courts. He also discussed the Judicial Branch's role in tackling problems facing the state, such as the opioid crisis, human trafficking and school safety concerns.
MORE INFORMATION
ABOUTChief Justice Mark Martin is the 28th Chief Justice of the Supreme Court of North Carolina. He was elected to an eight-year term that started on January 1, 2015, and he has served on the Supreme Court since January 1999. Chief Justice Martin is dedicated to strengthening and advancing the rule of law. He has authored more than 400 appellate decisions during his 20-plus-year tenure on the Supreme Court and Court of Appeals. He is the only sitting judge in North Carolina who has served on the Supreme Court, Court of Appeals, and Superior Court. Chief Justice Martin earned his juris doctor (J.D.) from the University of North Carolina School of Law, after receiving his undergraduate degree from Western Carolina University. He also has a master of laws degree (LL.M.) in Judicial Process from the University of Virginia. Read more.