Judicial Branch Seal and Branding Guidelines
Learn about and download the Judicial Branch seal, proper usage, and other guidelines.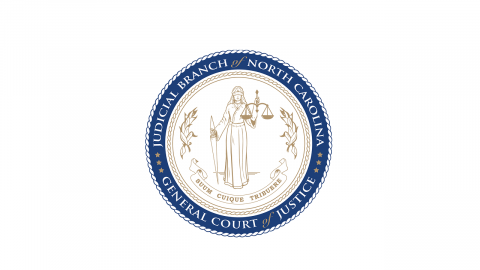 Elements and symbolism in the seal include:
Lady Justice – Lady Justice symbolizes the moral force in judicial systems.
Balanced Scales – The balanced scales held by Lady Justice represent the impartiality with which justice is served.
Sword – The sword held by Lady Justice symbolizes the power of justice and reason.
Blindfold – Lady Justice is blindfolded to show that justice is not subject to influence.
Three Stars – The three stars symbolize three co-equal branches within North Carolina's state government – legislative, executive, and judicial.
General Court of Justice – The General Court of Justice refers to a unified judicial system. As defined by the General Statutes: "North Carolina's court system, called the General Court of Justice, is a unified statewide, state-operated system comprised of three divisions."
Suum Cuique Tribuere – The phrase "Suum Cuique Tribuere" is Latin for "To render to every one his own."
Download and Usage
View the Judicial Branch quick reference guide for branding and usage guidelines. For assistance with the seal or guidelines, please contact media@nccourts.org.
Download
Seal Size and SpacingThe seal may not be smaller than 1" to preserve readability. Spacing of .25" is required around the circumference of the seal to separate the seal from text surrounding it.
Improper UsageThe seal may not be altered. Adjusting the seal in any way, including the following formats, is outside of the brand guidelines and may not be done.
DO NOT stretch or skew perspective and size
DO NOT rotate at an angle
DO NOT adjust colors or fonts
DO NOT scale to smaller than 1 inch
DO NOT add or layer text on top of the seal
DO NOT layer or stack with another logo (it may be grouped with another logo with appropriate spacing)
Writing Guidelines
North Carolina Judicial Branch on first reference, and N.C. Judicial Branch or Judicial Branch thereafter when referring to this proper entity of North Carolina State Government
Associated Press style: N.C. Judicial Branch
Supreme Court of North Carolina, and Supreme Court thereafter
Do not use: North Carolina Supreme Court or N.C. Supreme Court
North Carolina Court of Appeals, and Court of Appeals thereafter
Associated Press style: N.C. Court of Appeals
North Carolina Administrative Office of the Courts (NCAOC)
Associated Press style: N.C. Administrative Office of the Courts