All Things Judicial Features Tour of the Supreme Court History Room
History Room is a legal history museum containing artifacts of North Carolina's judiciary and its contributions to American Jurisprudence.
Article contents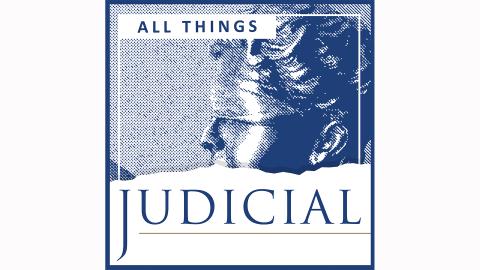 The latest episode of All Things Judicial features a tour of the Supreme Court of North Carolina's History Room. In a 2010 interview, former Supreme Court of North Carolina Chief of Protocol and Historian Danny Moody walks listeners through the Court's 200-year history by describing many of the invaluable artifacts contained in the Court's collection. Located on the first floor of the Supreme Court Building in Raleigh, the History Room is a repository for precious works of art, historical documents and photographs, and antique furniture dating back to the court's earliest years. The interview was conducted by Raleigh Attorney Wade M. Smith for the Chief Justice's Commission on Professionalism.
"This is the 1779 law license of William R. Davie who founded the University of North Carolina and it is the oldest known North Carolina law license," said Moody on the podcast. "It was signed by three judges (which) composed the entire North Carolina judiciary at that time. These three judges also decided the Bayard v. Singleton case, one of the more important cases in American jurisprudence." 
This interview is part of the Chief Justice's Commission on Professionalism's Historic Video Series. A video of this interview can be found on the NCcourts YouTube channel.