Mecklenburg County Courts Upgrade to Digital Case Management System October 9, 2023
The Mecklenburg County courts' transition to the Odyssey / Enterprise Justice platform, commonly known as eCourts, is the second track.
Article contents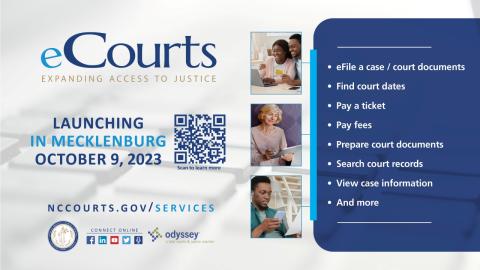 UPDATE:
---
The Mecklenburg County court system will upgrade to a new digital case management system on October 9, 2023, the director of the North Carolina Administrative Office of the Courts (NCAOC) announced today.​
Mecklenburg County courts' transition to the Odyssey / Enterprise Justice platform, commonly known as eCourts, is the second track of a statewide rollout that began in February 2023 in four pilot counties – Harnett, Lee, Johnston, and Wake.​
For the first time beginning October 9, 2023, court records in Mecklenburg County will be searchable online at no-cost to the public, and attorneys and self-represented parties can file court documents electronically. The access to justice tool Guide & File, which assists self-represented parties with legal filings through user-assisted interviews, will also allow electronic filing in Mecklenburg County on that date.
​"This vital effort to transform our state courts and deliver digital access to the justice system for millions of North Carolinians continues to progress thanks to the tireless work of local officials and the legal community," NCAOC Director Ryan Boyce said.​
The NCAOC estimates that 1.39 million sheets of paper have been saved during the eCourts pilot phase by transitioning four counties to electronic filing and records access over a six-month period. Roughly 30 million pieces of paper are currently added to court files each year in North Carolina. The historic transition from paper court records to online files is also shifting data storage from old mainframes to the cloud, allowing NCAOC to retire outdated network infrastructure and improve digital accessibility long-term.​
To date, the eCourts pilot counties have successfully accepted over 287,503 electronic filings. Statewide, more than 39,000 interviews have been completed to create a court filing in eCourts' Guide & File application that assists self-represented litigants with many of the most common legal matters. An average of 10,000 electronic searches are conducted each day through the eCourts Portal, saving countless trips to the courthouse with free digital records access for the public.
Improvements to system speed and stability, refinements of programming integrations, and standardization of new business processes have been key accomplishments during the pilot phase that prepared the platform for deployment to Mecklenburg County.​
Preparations and walkthroughs for Track 2 of the eCourts transition in Mecklenburg County have been ongoing during the pilot phase of the Odyssey project to train Mecklenburg court officials on new technologies and processes, install improved network infrastructure in the courthouse, customize programming integrations, and migrate court data and records from mainframe indexes and paper to a dynamic cloud-hosted platform.​
The NCAOC and Mecklenburg County's courthouse leadership team are partnering with local stakeholders to offer both in-person and online trainings for the legal community. Attorneys and other users can register now for eCourts applications such as File & Serve and Portal to learn to navigate those platforms and begin reviewing the guides and FAQs available at NCcourts.gov/ecourts.​
The registration process for in-person and online trainings will be announced by NCAOC the week of August 21, 2023.​
Pilot Phase Progress
​Programming the complex nuances of the state's legal system into a new platform presents challenges for software developers and users in early stages, but the transformation has delivered on the dire need to provide access to justice online in North Carolina.​
In addition to providing electronic filing solutions for attorneys and self-represented litigants through File & Serve and Guide & File, the generational shift for the Judicial Branch includes a range of other new platforms. The transition is shifting local procedures for paper records to statewide cloud-based software platforms for criminal processes (eWarrants), traffic tickets and other infractions (Brazos / Enforcement Mobile), free online records search (Portal), and the Integrated Case Management System (ICMS) known as Odyssey / Enterprise Justice.
Statewide, 34,017 registered eWarrants users have issued over 934,000 criminal processes since the eCourts application replaced older systems in July 2022. For infractions like traffic tickets, 93% of citations are now entered electronically by 579 registered agencies that have issued over 1.6 million eCitations statewide in Brazos/Enforcement Mobile since January 2022.
​A large network of IT and software systems teams from NCAOC supports the eCourts transition through on-site assistance, remote monitoring, and help desk response for the pilot sites and Mecklenburg County. A number of eCourts platforms already operate statewide, including eWarrants, Enforcement Mobile, and a dual-form of Guide & File.
Unlike many states that manage electronic court systems at the local level, North Carolina has a unified court system that is integrated across all 100 counties with other agencies such as law enforcement and the Department of Motor Vehicles. The statewide rollout of eCourts will continue after Mecklenburg County in additional county groupings and is planned for completion by the end of 2025.
​"We are proud of the progress North Carolina courts are making to fulfill our constitutional mandate that the courts 'shall be open' by upgrading paper processes to deliver digital access to the courthouse with a 21st-century justice system," Director Boyce said.
MORE ABOUT eCOURTS
Visit NCcourts.gov/ecourts to register for eCourts platforms, learn to navigate the systems with user guides, and learn more about North Carolina courts' digital transition.