North Carolina State Leaders Hold Behavioral Health Roundtable
The roundtable was an opportunity for North Carolina state leaders to use the Miami-Dade Criminal Mental Health Project as a model.
Article contents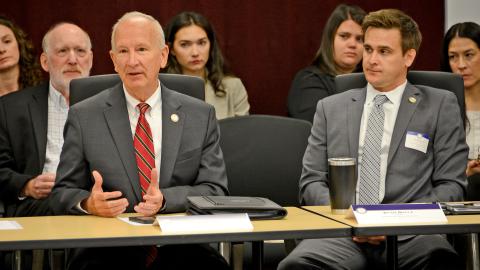 Chief Justice Paul Newby and N.C. Administrative Office of the Courts (NCAOC) Director Ryan Boyce held a Behavioral Health Roundtable in partnership with N.C. Department of Health and Human Services (NCDHHS) Secretary Kody Kinsley on Friday, October 13. The roundtable was hosted at the North Carolina Judicial Center in Raleigh. The roundtable was also broadcast live via WebEx.
"We are thankful that the State Justice Institute is supporting our efforts here in North Carolina," said Director Boyce. "We are excited to renew our focus to identify appropriate opportunities for a court and a community response to assist those with mental illness." 
The goal of the roundtable was to learn about best practices relative to the intersection of individuals with serious mental illness and co-occurring substance use disorders as they interact with the justice system and how these best practices can be implemented in North Carolina. Leaders and stakeholders from across the state were invited to provide insight about how implementation of similar policies or procedures could benefit North Carolinians and will work to determine short and long term goals. 
Utah State Court Administrator (Ret.) Richard Schwermer, who is now a court consultant with the National Center for State Courts, gave an overview of effective strategies that are the framework for the Sequential Intercept Model which included a description of effective practices and examples of how those practices have been implemented across the country. 
Keynote speaker Judge Steven Leifman, who is an associate administrative judge with the Eleventh Judicial Circuit of Florida, spoke about Miami-Dade County's Criminal Mental Health Project (CMHP). The CMHP was established in 2000 to divert individuals with serious mental illnesses (SMI) such as schizophrenia, bipolar disorder, and major depression, and / or co-occurring SMI and substance abuse disorders away from the criminal justice system and into comprehensive community-based treatment and support services.  
The CMHP was featured in the PBS documentary The Definition of Insanity. The Miami model engages an entire system and continuum of responses to help steer people with mental illness – as their court cases hang in the balance – on a path from incarceration to recovery. 
Judge Leifman applauded Chief Justice Newby's current efforts to promote education within the Judicial Branch about adverse childhood experiences; adverse community environments (ACEs) and trauma which will help strengthen North Carolina's response.
Additional presenters included:
Dr. Bob Cochrane, Statewide Director of Forensic Services, NCDHHS
Lisa Coltrain, Homicide & Arson Resource Prosecutor, N.C. Conference of District Attorneys
Ziev Dalsheim-Kahane, Policy Advisor, N.C. Governor's Office
Emily Mehta, Research, Policy & Planning Manager, NCAOC
Dr. Marvin Swartz, Professor of Psychiatry, Duke University
Numerous community partners and stakeholders participated in this roundtable. View the full list of participants. 
Preliminary Efforts
In addition to educational efforts regarding ACEs, several other initiatives have and resources have been identified as a result of this meeting. NCDHHS has already begun SIMS mapping to determine resources in 12 of 100 counties. Mobile crisis units are also available across the state. UNC-Chapel Hill has a Center of Excellence that can be utilized in collaboration with agencies and stakeholders. In Judicial District Two (Franklin, Granville, Person, Vance, Warren counties), Chief District Court Judge Regina Parker has created a Mental Health Coalition for the five rural counties that make up her district. The Coalition has used recommendations by the National Judicial Task Force to Examine State Courts' Response to Mental Illness to drive local response to mental health issues. They are working on training SIMS facilitators to help develop a community to courthouse response.