Supreme Court Library Receives Law License of North Carolina's First Woman Lawyer
Tabitha Holton's 1878 law license is now part of the Supreme Court of North Carolina's collection of historic legal artifacts.
Article contents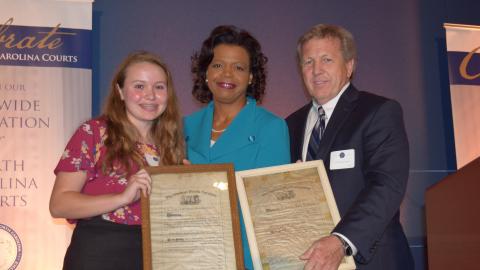 The Supreme Court of North Carolina was honored to receive the law license of Tabitha Ann Holton, North Carolina's first woman lawyer. Walter Holton, a lawyer and grandnephew of Tabitha Holton, and his daughter, Mary Holton, presented the historic document to Chief Justice Cheri Beasley at a Supreme Court bicentennial anniversary celebration on October 10. The 1878 law license will be displayed in the Supreme Court History Room alongside the Court's other artifacts of historical significance.
"Tabitha Holton was a trailblazer in North Carolina law breaking the glass ceiling for generations of women lawyers," said Chief Justice Beasley. "It was a blessing to receive this important piece of North Carolina's legal history and I am very grateful to the Holton family for their generosity."
Tabitha (pronounced tab-eye-tha) Holton was the daughter of a Methodist minister and graduate of Greensboro Academy in 1878. After graduation, Ms. Holton petitioned the Supreme Court of North Carolina to be allowed to sit for the state bar examination. The Court required Tabitha to return the following day with legal counsel to argue for her right to take the test. The Court deliberated for 10 minutes before allowing her to take the bar examination, which she passed. The Court then presented Tabitha the law license now gifted to the Supreme Court.
The Supreme Court History Room, located in the Law and Justice Building in Raleigh, is a repository of precious artifacts related to the court system and legal history of North Carolina. Once it undergoes historical preservation measures, Tabitha Holton's law license will complement the collection of portraits of North Carolina's chief justices (displayed in the courtroom), historic books and furniture dating back to the Court's founding, and a sizable portion of former Associate Justice of the Supreme Court of the United States James Iredell's personal law library. Many of the items are currently on display to visitors and school groups touring the Supreme Court, and Ms. Holton's law license will be added to the public collection on a future date. To schedule a tour and see these important artifacts firsthand, please contact the Supreme Court Clerk's Office or the Judicial Branch Speakers Bureau.