School Justice Partnership
A program focused on keeping kids in school and out of court.
About
The School Justice Partnership (SJP) is a group of community stakeholders – including school administrators, the law enforcement community, court system actors, juvenile justice personnel, and others – that develops and implements effective strategies to address student misconduct. SJPs work to reduce the number of suspensions, expulsions, and referrals to the justice system by timely and constructively addressing student misconduct when and where it happens, helping students succeed in school and preventing negative outcomes for both youth and their communities.
View the SJP fact sheet for more information about SJPs in North Carolina.
The strength and success of SJP North Carolina depends on local collaborations that will occur in communities throughout the state.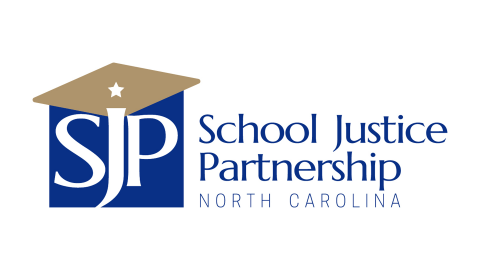 News
All Things Judicial Focuses on North Carolina's School Justice Partnerships - August 17, 2022
Forsyth County School Justice Partnership Aims to Reduce Juvenile Court Involvement - 88.5 WFDD, August 4, 2022
Technology Hour Lunch & Learn Webinar: School Justice Partnerships and the SJP Dashboard
February 24, 2022 - 12:00 p.m. to 1:00 p.m.
Online via Webex
Hosted by The Office of the Juvenile Defender. This 1-hour technology CLE opportunity will explain the SJP model, development and advantages associated with implementing an SJP, as well as, the data derived and available from the NC DPS on the SJP Dashboard. Presented by DeShield Greene, Court Management Specialist for the North Carolina Judicial Branch, Lindsey Spain, Assistant Legal Counsel on the Criminal Team for the North Carolina Administrative Office of the Courts, Phillip Maychek, Social Research Specialist with the NC Department of Public Safety, and Kimberly Quintus, Director of Juvenile Justice Reinvestment Act at the N.C. Department of Public Safety, Juvenile Justice. CLE Application is pending.
Winston-Salem/Forsyth County Schools' Policy Committee supports launch of School-Justice Partnership - Winston-Salem Chronicle, September 22, 2021
Former Chief Justice Beasley Convenes District Court Judges for Workshop on Implementing School Justice Partnerships and Recovery Courts – November 14, 2019
Pitt County Schools, Law Enforcement, and Courts Start New Program to Keep Kids in School and Out of Court – November 13, 2019
Former Chief Justice Beasley and Governor Cooper Announce School Justice Partnership Initiative Toolkit – August 12, 2019
New Hanover County Holds Signing Ceremony for School Justice Partnership Renewal – June 17, 2019
Juvenile Justice, Judicial Branch Workshop on Wednesday Focuses on School Justice Partnerships, School Safety – April 24, 2018
Wayne County Launches School Justice Partnership for Students – April 12, 2018
Greene and Lenoir Counties Launch School Justice Partnership for Students – March 16, 2018
Contact
Have a question or comment about School Justice Partnership North Carolina?
Telephone(919) 890-2468
EmailSJP@nccourts.org