Assistant Public Defender Receives 2022 Professionalism Award
The award was presented to Max Ashworth by Chief Justice Paul Newby.
Article contents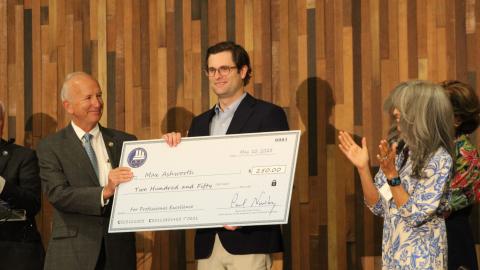 Supreme Court of North Carolina Chief Justice Paul Newby recently recognized New Hanover County Assistant Public Defender Max Ashworth who has "consistently demonstrated professionalism and who have gained the respect of his peers." Ashworth was presented with the Chief Justice's Certificate of Excellence "in recognition of his professionalism and for treating others the way they would want to be treated."
According to his nomination, while Ashworth "is primarily assigned to handle motions and appeals, he continues to represent clients at the trial level in multiple courts. Ashworth has the ability to maintain his composure in any situation. He is well-liked and respected by judges, prosecutors, and defense lawyers, and demonstrates professionalism in both his personal and professional life and has an even temper, something which is very difficult for many of us as we engage in demanding litigation. When submitting legal arguments, he thoroughly researches all points of view and is not hesitant to submit contrary points of law. Max Ashworth is most professional and deserving of the award."
View prior recipients and courthouse employees professionalism award winners.