All Things Judicial Features Interview with Attorney Walter F. Brinkley, Jr.
Inspired by father's real-life "To Kill a Mockingbird" trial, Brinkley participated in U.S. Supreme Court case to desegregate UNC Law.
Article contents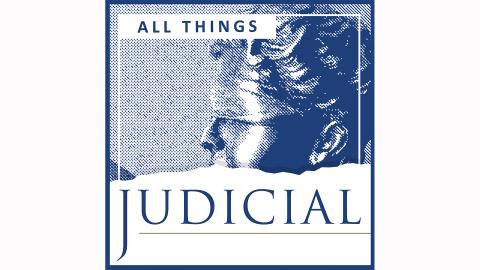 The latest episode of All Things Judicial features excerpts of an interview with attorney Walter F. Brinkley, Jr. who was co-founder of North Carolina Legal Services Corporation, and was counsel in the U.S. Supreme Court case against the University of North Carolina to desegregate the UNC School of Law. The interview was recorded in 2006 as part of the Chief Justice's Commission on Professionalism's Historical Video Series and was conducted by attorney Hank Van Hoy. In the interview, Brinkley shares how his career was inspired by his father's criminal defense of an African American tenant farmer before an all-white Davie County jury, and Brinkley reminds lawyers that they have a duty of public service because of their unique position as members of the Bar.
"I have always had the view that a license to practice law in North Carolina was not actually a license, but should be considered a privilege," said Brinkley on the podcast. "Because of that, members of the Bar have a duty to repay the public by offering public service in various forms."
Born in Lexington, North Carolina, in 1926, Brinkley served in the U.S. Navy and fought in World War II and the Korean War. After returning to Lexington, Brinkley graduated from the UNC School of Law, served as a staff attorney in the North Carolina Office of the Attorney General, and worked in private practice. Brinkley had an active 60 year legal career which included stints as president of the North Carolina Bar Association, chairman of the North Carolina Board of Law Examiners, and co-founder of North Carolina Legal Services Corporation. The full video interview can be found on the North Carolina Judicial Branch YouTube channel.