All Things Judicial "Fright Court" Episode Focuses on Two Haunted County ­Courthouses and the Tale of Legendary Accused Murderer Tom Dooley
Each Halloween, we release a special episode called "Fright Court," where we focus on ghostly legends associated with our legal community.
Article contents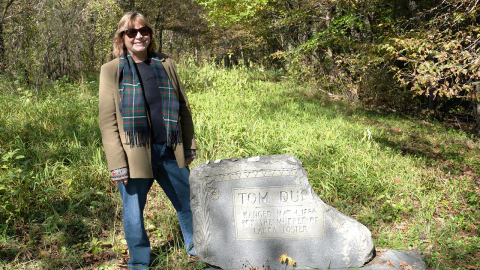 Each Halloween season, All Things Judicial releases a special episode called "Fright Court," where the focus turns to ghostly legends associated with North Carolina's courthouses and legal community. In this year's episode, we focus on courthouse ghosts in New Hanover and Mitchell counties, and dive into the folklore of the 1866 murder of Laura Foster and subsequent trial and execution of her accused killer, Tom Dula (Dooley). This story became a worldwide pop culture phenomenon beginning in 1958 when the Kingston Trio released a murder ballad which reached number one on the Billboard Hot 100 singles chart.   
"I've always believed that the hanging of Tom Dooley here in our little town of Statesville, North Carolina is the most widely recognized execution in U.S. history," said Steve Hill, curator of the Statesville Historical Collection. "Everybody wanted to make a dollar off of Tom Dooley while they could, and a lot of people did." 
The first segment of this episode is an interview with John Hirchak, who, along with his wife Kim, operate the Ghost Walk of Old Wilmington and The Black Cat Shoppe. Hirchak shares stories about three spirits who occupy the historic New Hanover County Courthouse, and we discuss possible explanations for hauntings.
The second segment is a dramatic reading of an article published by the Mitchell County Historical Society which details firsthand accounts of seeing and hearing a ghost which haunts the historic Mitchell County Courthouse.
In the third segment, we meet Margaret Ferguson Carter Martine from the Whippoorwill Academy and Village in Wilkes County. She recounts the Dooley story and shares her personal connection to a key figure in that historic event.
Then we travel to Iredell County where we meet Keith Ryan, Director of the Historic Sharpe House. He shares details about May 1, 1868, the fateful day Tom Dooley was hanged in Statesville.
In the final interview of this episode, we meet Steve Hill, curator of the Statesville Historical Collection. He provides insight into the worldwide impact of the Dooley story.
You can find out more about All Things Judicial or hear previous episodes in the Fright Court series by visiting NCcourts.gov.