North Carolina Dispute Resolution Commission Unveils New Logo
The previous DRC logo has been retired and will no longer be used by the Commission.
Article contents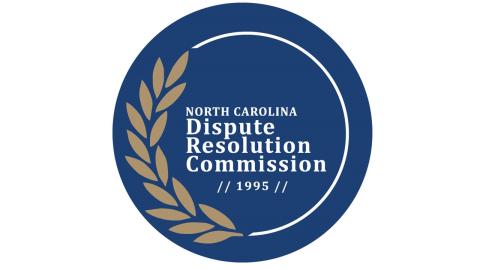 The North Carolina Dispute Resolution Commission (NCDRC) is excited to announce that it now has a new logo. The previous Dispute Resolution Commission logo, which featured a diptych illusion of the scales of justice, has been retired by the Commission and will no longer be used. 
"We are excited to announce the North Carolina Dispute Resolution Commission's new logo," said NCDRC Chair Judge Phyllis Gorham. "The new logo represents the Commission's responsibility to certify and regulate individuals who conduct court-ordered mediations across our state. It helps promote the Commission's strong identity and reflects our commitment to the citizens of North Carolina and our certified mediators. The new logo projects confidence in our mediation programs and preserves our reputation for providing quality mediations throughout the state."  
The new logo features a gold laurel leaf. The laurel  leaf has a special place in ancient Greek and Roman cultures, and its symbolism survives to this day and remains a symbol of honor and victory. The new logo also marks the year in which the Commission was established: 1995. 
"Having a consistent identity for our Commission is important, and I am delighted to unveil our new logo," said NCDRC Executive Director Tara Kozlowski. "It's a modern and elegant representation of the fair and impartial resolution of disputes."
The new logo will be featured on all official NCDRC materials, forms, and any digital and / or print assets effective July 1, 2023. 
About Dispute Resolution CommissionThe North Carolina Dispute Resolution Commission, established in October 1995, is charged with certifying and regulating private mediators who serve the courts in five mediation programs established by the NCGA. The Commission recommends policy, rules, and rule revisions relating to dispute resolution in North Carolina courts. The 18-member Commission includes members appointed by all three branches of government.
Thousands of disputes between individuals, family members, corporations, small businesses, governmental agencies, and others are brought before North Carolina civil and criminal courts each year. Mediation, arbitration, and other conflict resolution processes such as collaborative law, neutral evaluation, and restorative justice can help reduce the demands on the trial courts and improve efficiency. Many disputes are effectively addressed and resolved by the parties themselves with the help of a trained mediator or arbitrator, without the need to involve the police or the court system.