Chief Justice Mark Martin Presents 2018 Professionalism Awards to Four Recipients
Article contents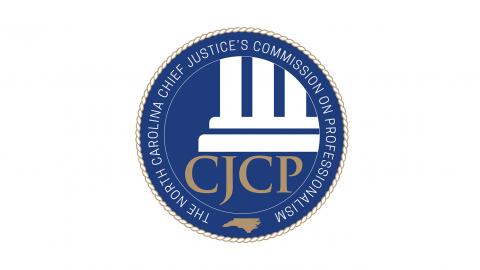 On Wednesday, January 16, at the joint dinner of the North Carolina State Bar and the North Carolina Bar Association in Raleigh, Chief Justice Mark Martin presented the 2018 Chief Justice's Professionalism Award to the following recipients for their dedication and commitment to the principles of professionalism and public service in North Carolina.
Former Associate Justice Bob Edmunds
Attorney Ronald L. Gibson
Attorney Jim Williams (posthumously)
Attorney Erna A.P. Womble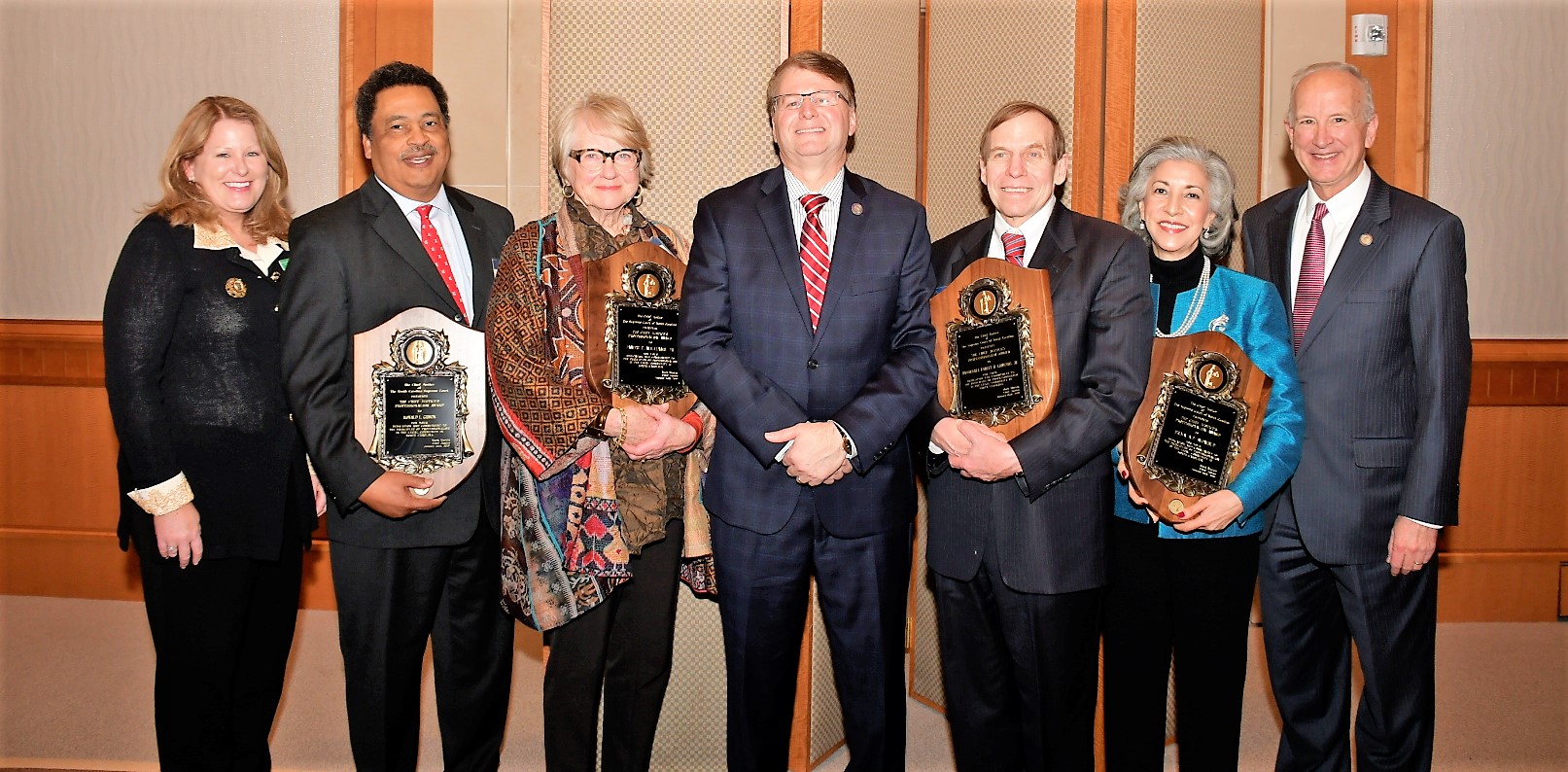 Robert Holt Edmunds Jr. was born in Danville, Va., and moved to Greensboro, N.C., at the age of 8. He obtained his undergraduate degree with honors from Vassar College and earned his Juris Doctor from the University of North Carolina at Chapel Hill in 1975, after which he served 2 years in the Navy. In 2004, he was awarded an LL.M. degree in Judicial Process from the University of Virginia School of Law.
He began his career as an assistant district attorney in Guilford County and joined the United States Attorney's Office in the Middle District as assistant U.S. attorney in 1982. He was appointed U.S. attorney for the Middle District of North Carolina in 1986 by President Ronald Reagan, and served in that capacity until 1993 when he joined the Greensboro firm of Stern & Klepfer as partner.
In 1998, he was elected to the North Carolina Court of Appeals. In 2000, he was elected to the Supreme Court of North Carolina and was re-elected to that position in 2008. He served a total of 18 years as an appellate judge.
Justice Edmunds has received a number of honors and awards, including the James E. Cross Leadership Award from the North Carolina State Bar in 2012, the Order of the Long Leaf Pine in 2016, the Greensboro Bar Association Distinguished Service Award in 2017, and in 2018, he was named to the Legal Elite for Appellate Practice by Business North Carolina.
He continues to offer his time and expertise in service of others by chairing the Judicial Response Committee of the Chief Justice's Commission on Professionalism.
Ronald L. Gibson grew up in Columbia, S.C., and matriculated to Davidson College. While at Davidson, he compiled an outstanding record of achievement. In addition to being the quarterback of the football team, he served as president of the Black Student Association, was selected as a North Carolina Fellow and received the George Gladstone Award for academic performance and potential for leadership and service. In 1974, he also won a Watson Fellowship which allowed him to study capital formation in developing economies abroad in in Jamaica, Ghana and Europe after graduation. 
Gibson received his law degree from the University of North Carolina School of Law in 1978 and then clerked for Federal District Court Judge James B. McMillan. He entered private practice by joining the law firm of Chambers, Stein, Ferguson & Becton, where he focused on employment and civil rights law.
In 1983, Gibson began a corporate career at Duke Power Company where, over the course of 15 years, he handled licensing issues for a nuclear power plant, utility rate cases and lobbying before transitioning to management and assuming the role of associate general counsel and vice president of marketing. He has also worked as a utility industry consultant with the consulting firm of Scott, Madden & Associates.
Gibson has been a partner with the Charlotte firm of Ruff, Bond, Cobb, Wade & Bethune, L.L.P. in Charlotte since 2011, where his primary clients are Mecklenburg County and Livingstone College.
In addition to a successful career, Gibson has an extensive record of service to North Carolina lawyers and to the profession. He is one of the few lawyers to have served more than three terms on the State Bar Council. He was first elected from Mecklenburg County in 1985 and served a total of six terms since that time.
During his 15-year tenure, he has been a member of numerous State Bar committees, including vice chair of the Client Assistance Committee and the Grievance Committee, and he has chaired the Administrative Committee and the Program Evaluation Administrative Sub-Committee. He also served on the Authorized Practice Committee, the Executive Committee, Disciplinary Advisory Committee, the Legislative Committee, the Appointments Advisory Committee, the Ethics Committee, the Facilities Committee and the Issues Committee. On October 23, 2014, Ron was sworn in as president of the North Carolina State Bar by Chief Justice Mark Martin.
Gibson has remained involved with Davidson College since his undergraduate days there. He has served on Davidson's Board of Visitors, as a member of the Vann Center for Ethics Advisory Board since its founding, and on the Steering Committee for the Davidson Black Alumni Network.
Gibson has been a partner with the Charlotte firm of Ruff, Bond, Cobb, Wade & Bethune, L.L.P. in Charlotte since 2011, where his primary clients are Mecklenburg County and Livingstone College.
James "Jim" Thomas Williams, Jr. was honored posthumously. He passed away on September 3, 2018 and was widely known for his integrity and excellence as a trial lawyer.
A native of Durham, N.C., Williams was a first generation college student and attended Wake Forest University on a football scholarship. He met Barbara, his wife of 56 years, while an undergraduate at Wake. On the advice of his history professor, Williams chose law school over a career in the NFL and graduated from Wake Forest Law School with honors in 1966. He was an associate editor of the Wake Forest Law Review. 
After graduation, he joined the Greensboro firm of Brooks, Pierce, McLendon, Humphrey & Leonard, where he spent his entire 52-year career. In 1981, Jim began serving on his firm's Management Committee, a role he held continuously for 29 years, including 14 years as chair.
Recognitions of Williams' exceptional advocacy skills include his membership in the American College of Trial Lawyers, for which he served as state chair, and consistent listings in The Best Lawyers in America, Chambers USA Leading Business Lawyers, and Business North Carolina's Legal Elite Hall of Fame. Williams received the John B. McMillan Distinguished Service Award, the highest award bestowed by the North Carolina State Bar, and was only the third person to receive the Advocate's Award given by the North Carolina Bar Association.
Throughout his career, Williams devoted significant time and energy in service to his community. He helped found the Joseph Branch Inn of Court and served on the Greensboro Board of Education from 1984 to 1988. He served twice on the Board of Trustees of Blue Cross and Blue Shield of North Carolina, from 1997 to 2001 and 2006 to 2010. In 2004, he was elected to the Community Foundation of Greater Greensboro Board of Directors and served as chair from 2005 to 2007. From 2009 to 2012, he served on the Greensboro Chamber of Commerce Board of Directors.
Williams was also known for his significant contributions to Wake Forest University. He served as a member of the Alumni Council, College Board of Visitors, and the School of Law's Board of Visitors. He was first elected to the University's Board of Trustees in 2002 and served as vice chair from 2007 until 2009 and chair from 2009 to 2012. He was named a Life Trustee in 2013. Williams also served on the Cabinet for the Wake Will Capital Campaign and on the boards of Wake Forest University Health Sciences and Wake Forest Baptist Medical Center.
In 2014, Wake Forest honored Williams with its Distinguished Alumni Award, and in 2016, he was awarded the Medallion of Merit, Wake Forest's highest award for service.
Erna A. P. Womble earned a Bachelor of Fine Arts degree and a Masters in Education at the College of Charleston in South Carolina. She taught music appreciation and music theory lab part-time at the college level to finance her education. She received her law degree from the University of South Carolina in 1986 and then clerked for U.S. District Judge Matthew J. Perry, Jr. in South Carolina.
Womble joined Womble, Carlyle, Sandridge, and Rice, now Womble, Bond, Dickinson, in 1987 and enjoyed a thriving litigation and regulatory practice, representing UnumProvident Corporation as North Carolina Counsel and National Litigation Counsel for Thomas Built Buses, Inc., among others.
Womble is a permanent member of the U.S. Fourth Circuit Judicial Conference and served as vice president of the North Carolina Bar Association and chair of its Professionalism Committee. She is the co-author of two American Bar Association treatises, as well as publications for the Defense Research Institute.
Womble is widely known for her abiding interest in the arts and humanities. She has served as a trustee of the University of North Carolina School of the Arts since 2013 and has been elected to various officer positions on that board, as well as on its Advancement, Governance and Personnel committees, and is liaison to the UNCSA Foundation Board. Prior to her election as vice chair, she served as secretary.
Womble's community involvement includes service on the Board of Directors of the Winston-Salem Symphony, the Arts Council of Winston-Salem, the Forsyth County Endowment Fund the Rotary Club of Winston-Salem, the Work Family Resource Center, and as chair of the YWMC Camp Hanes Board. She also served as a member of the Board of Trustees of the Western North Carolina Conference of the United Methodist Church.
In December 2013, she resigned from the Womble Carlyle partnership and formed Clearly Bespoke Strategies, Inc., a niche strategic advising practice, building on her work as a practicing lawyer. As a strategic adviser, she concentrates on advising influential leaders in the public and private sectors on a confidential basis. In this work, she focuses on assisting leaders to develop skilled problem-solving, decision-making, advanced communications and strategic messaging skills, including leadership presence training.
MORE INFORMATION
The Chief Justice's Commission on Professionalism (CJCP) was founded in 1998 by former Chief Justice Burley Mitchell, and continued under the guidance of four succeeding Supreme Court Chief Justices and current Chair, Senior Associate Justice Paul M. Newby. Under the operational leadership of former Executive Director Melvin F. Wright Jr. and current Executive Director Lisa M. Sheppard, the Commission continues to fulfill its charge to enhance professionalism among North Carolina lawyers, judges and law students.
Connect with the Chief Justice's Commission on Professionalism at NCcourts.gov/NCCJCP, Facebook @NCCJCP, Twitter @NCCJCP, and LinkedIn.