Former Chief Justice Beasley and Governor Cooper Declare January 2020 as Human Trafficking Prevention and Awareness Month
The chief justice joins government leaders today to declare January 2020 as Human Trafficking Prevention Month.
Article contents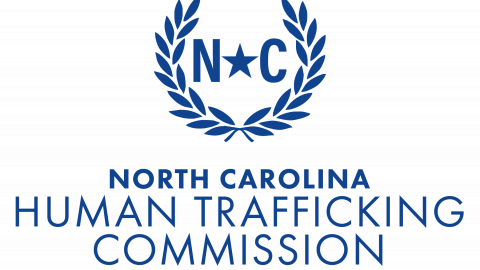 On Wednesday, January 15, Chief Justice Cheri Beasley along with federal, state and local law enforcement, government leaders, stakeholders and advocates joined together to declare January 2020 as Human Trafficking Prevention and Awareness Month and to discuss priorities for combating human trafficking in North Carolina.
Since 2010, January is National Slavery and Human Trafficking Prevention Month. The anniversary of this presidential proclamation, January 11, is known as National Human Trafficking Awareness Day.
"Combating human trafficking requires all branches and all levels of government to work together in partnership," said Chief Justice Beasley. "In Cumberland County, judicial officials and law enforcement have come together to start a new innovative court program called WORTH to help get services to survivors when they do find themselves in court. And, while we work to provide greater services to victims and move them out of environments where they are being exploited, our dedicated district attorneys are also working hard to get traffickers off the street."
North Carolina has made significant progress over the last decade in reducing human trafficking, thanks in large to the efforts of the North Carolina Human Trafficking Commission. The commission is housed within the Judicial Branch and works to increase awareness and foster partnerships to bring services to survivors.
"Public awareness of human trafficking is vital to not only identify victims and traffickers, but also to prevent this crime from happening in the first place. The North Carolina Human Trafficking Commission has been working to increase awareness for six years and appreciates all partnerships to develop the public's understanding of this crime," said Jennifer Haigwood, chair of the North Carolina Human Trafficking Commission.
Thanks to the work of the commission, North Carolina has received an "A" rating in the national fight against human trafficking, according to a 2019 report produced by Shared Hope International. North Carolina's report card rating of 94 is a significant improvement from the 61 (or D) rating in 2011.
Chief Justice Beasley was joined Wednesday by Attorney General Josh Stein. Under Stein's leadership, the Department of Justice is working to improve awareness in the law enforcement community. "Tragically, North Carolina ranks 10th in the nation for reports of human trafficking to the National Human Trafficking Hotline. We must do more to protect these victims, including raising awareness, training law enforcement, educating young people, and actively investigating and prosecuting cases. I thank the Human Trafficking Commission for its critical work to confront this devastating issue," said Attorney General Josh Stein.
"The Department of Public Safety is deeply committed to the fight against human trafficking. We stand ready with our internal and external partners to continue this battle as we build the strong networks necessary to find, investigate and bring these cases to fruition," said Public Safety Secretary Erik A. Hooks, who read the proclamation signed by Governor Roy Cooper to raise public awareness of modern-day slavery and recognize the importance of efforts to combat human trafficking in North Carolina.
The fight to end human trafficking has brought together leaders from across government, including the North Carolina General Assembly, which has passed significant legislation in recent years to help combat human trafficking. Representative Ted Davis, Jr., who represents Wilmington in the state legislature spoke Wednesday about legislation he sponsored that would bring relief to victims.
"A unique aspect of House Bill 198, which I sponsored, is that it specifically addresses relief for the victim. Among other things, it expands the avenues of civil relief available to victims, as well as a court being able to expunge certain nonviolent convictions for victims if the offenses were committed due to either coercion or deception by a trafficker," said Representative Ted Davis, Jr., North Carolina House District 19.
To increase awareness beyond January, the commission also announced the new public awareness signs available online to view, download, print, display, and share on social media. Through the anti-human trafficking efforts of North Carolina, citizens can learn to recognize the signs of human trafficking and how to report suspected instances. By taking steps to become familiar with the signs, citizens can save innocent lives.
MORE INFORMATION
The North Carolina Human Trafficking Commission is the legislatively mandated leader of anti-human trafficking efforts in North Carolina per S.L. 2013-368. The Commission is charged primarily with examining and combating human trafficking; funding and facilitating research; creating measurement, assessment, and accountability measures; informing and educating law enforcement personnel, social services providers, and the general public; suggesting new policies, procedures, and legislation; and developing regional response teams and identifying gaps in law enforcement or service provision and recommending solutions.