North Carolina Chief Justice's Commission on Professionalism Holds 20-Year Anniversary Celebration
Chief Justice Mark Martin presented the Chief Justice's Professionalism Awards to former supreme court justices.
Article contents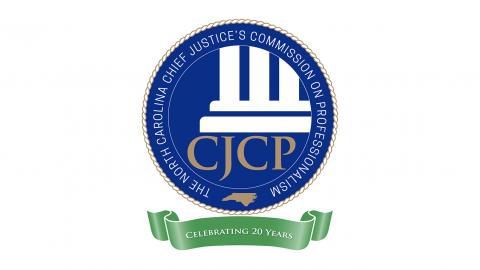 The North Carolina Chief Justice's Commission on Professionalism (CJCP) held its 20-year anniversary celebration on November 8 at the North Carolina Museum of Art in Raleigh as part of its Year of Professionalism activities. 
Maintaining the Commission's focus on civility and collegiality, the 20-year anniversary celebration featured Clare Cushman, director of publications at the U.S. Supreme Court Historical Society, who gave remarks about her recent book, "Table for 9: Supreme Court Food Traditions & Recipes." An excerpt from the book jacket reads, "Food traditions have always been important at the Supreme Court as the Justices have purposefully sought occasions to break bread together to reinforce cordiality and cooperation."
As the more than 100 members and guests broke bread during the celebration, they watched "The CJCP: 20 Years of Service," a video that honors and celebrates the service of all 102 members and two executive directors. The evening concluded with remarks from Chief Justice Mark Martin who presented the Chief Justice's Professionalism Award to former Chief Justice Sarah Parker, former Chief Justice James G. Exum Jr. and former Associate Justice Robert F. Orr.
View of Photo Gallery of the Event
MORE INFORMATION
The Commission was founded in 1998 by former Chief Justice Burley Mitchell, and continued under the guidance of four succeeding Supreme Court Chief Justices and current Chair, Senior Associate Justice Paul M. Newby. Under the operational leadership of former Executive Director Melvin F. Wright Jr. and current Executive Director Lisa M. Sheppard, the Commission continues to fulfill its charge to enhance professionalism among North Carolina lawyers, judges and law students.
Connect with the Chief Justice's Commission on Professionalism at NCcourts.gov/NCCJCP, Facebook @NCCJCP, Twitter @NCCJCP, and LinkedIn.