Mecklenburg County Fine Collection
Find information about the Fine Collection Program.
About Us
The 26th Judicial District established the Fine Collection Program in 1993. The specific objectives of the Fine Collection Program are to:
Hold accountable convicted defendants who have been assessed monetary sanctions and placed on unsupervised probation;
Improve the credibility of the judiciary through the collection of monetary sanctions in unsupervised probation cases;
Remove from the courtroom the unseemly and time-consuming bartering over payment terms;
Provide defendants an alternative to incarceration;
Ameliorate overcrowding of the jails due to noncompliance;
Proactively pursue the collection of monetary sanctions for the target population; and,
Improve the monetary collection rate for the target population.
Eligibility
Fine Collection is generally available in misdemeanor and low-level felony cases. The target population includes offenders placed on unsupervised probation convicted of the following offenses:
Assault
Concealment
DWI
Property offenses
DWLR
Drug offenses
Fraud
Worthless checks
Additionally, defendants must owe a total of $200 or more in court-levied fines, costs, and/or restitution to be admitted to the program.
Enrollment: What is the Referral Process?
The judge makes a referral to the Fine Collection Program if a defendant needs more than 40 days to pay the total amount due to the court.
A one-time $20.00 installment fee is added to the defendant's cost bill when referred to the Fine Collection Program.
A completed cost bill and post-judgment data form is provided to the defendant for the Fine Collection Coordinators to process in Suite 4000.
Fine Collection Coordinators process the referral and provide the defendant with a monthly payment plan.
a. Monthly payments are required when enrolled in the Fine Collection Program. Failure to make monthly payments will initiate delinquency status case management steps that may result in "Violation of Unsupervised Probation Court Hearings".
NOTE: This program is not for defendants who wish to pay in full within 40 days; it is for those in need of a payment plan to successfully pay the total amount due as ordered by the court.
Fine Collection Program Workflow & Case Management Phases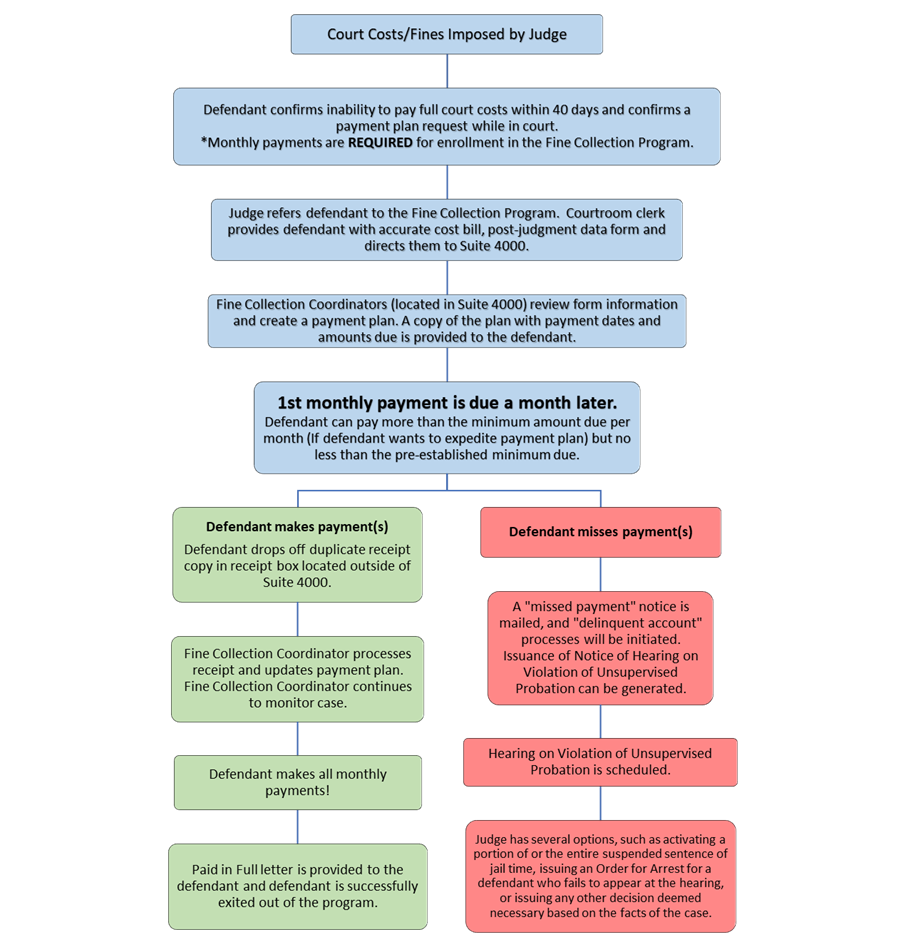 Violation of Unsupervised Probation Court Hearings
At each court violation hearing, the judge has several options, such as activating a portion of or the entire suspended sentence of jail time, issuing an Order for Arrest for a defendant who fails to appear at the hearing, or issuing any other decision deemed necessary based on the facts of the case. Please see parking and childcare information below.
Location / Hours of Operation
832 East 4th Street, Suite 4000
Charlotte, NC 28202
8:30 AM – 12:30 PM and 1:30 PM – 5:00 PM
Contact Us
Main Phone: 704-686-0240
Fine Collection Coordinators: 704-686-0241 / 704-686-0242
Email: D26.FineCollectionDept@nccourts.org
Be sure to include your full name, case number and contact number when sending the Fine Collection Coordinator emails regarding your case.
Payment Information*
Payment by Mail
Money order
Certified check
X    NO Cash
X    NO Personal Checks
Make payable to:
Mecklenburg County Clerk of Superior Court
Mail payment to:
Clerk of Superior Court
Mecklenburg County Courthouse
PO Box 37971
Charlotte, NC 28237-7971
You must include your case number when mailing in your payment.
Payment in Person
Cash
Credit / debit card (plus processing fees) – MasterCard, Visa, American Express, Discover. Some restrictions apply.
Money order
Certified check
X    NO Personal Checks
Pay in person at the Cashier's Office (located on the 1st floor) in the Mecklenburg County Courthouse. There is an ATM located on the 2nd floor for your convenience.
Once you make a payment at the Cashier's window, drop off a copy of your receipt in the "Receipt Box," which is located on the upper right-hand side of the door for Suite 4000.
* Online payments are not available for Fine Collection cases at this time. However, online payments may be available in the near future.
Public parking for court visitors is available at the 4th Street Parking Deck, which is located at the intersection of 4th and McDowell Streets. Accessible parking for persons with disabilities is available on Level 2. The Court does not validate parking for court visitors and is not responsible if your vehicle is ticketed and/or towed.
On-Site Child Care
Larry King's Clubhouse (located on the 2nd floor of the courthouse): Children's Play and Care Center, Inc. is a free, drop-in childcare center for children between the ages of 6 weeks and 12 years of age whose family members are conducting business at the courthouse or serving as jurors. Operating hours are 8:00 AM until 5:00 PM. For additional information, please contact the center directly at 704-686-0285.